Here are the best ways to create a partition in your garden that will surely help increase privacy in your outside space in a way that suits your budget, tastes, and needs. Without further ado, let's dive right in.
Glass Partitions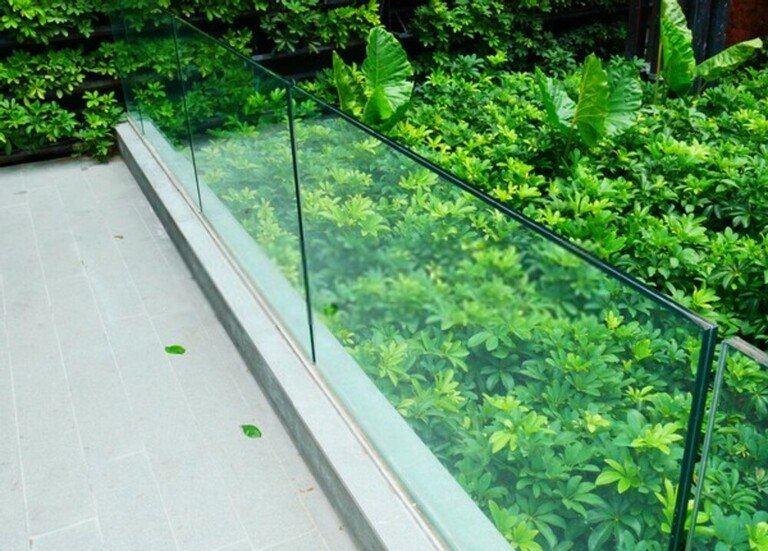 Sand-blasted glass partitions are a worthy investment if you want extra privacy without reducing light transmission.
They are easy to install, flexible, and reduce only 10% of the light transmission through the glass.
But take note that these glass partitions are prone to be built up with dirt over time, so before buying one, you should consider whether it is easy to clean and low-maintenance or not.
Walling
This solution brings the best privacy to you. But it is quite costly due to the labor involved.
As for the material, there are a lot of options, such as natural stones and bricks. You should choose the one that matches the style of your house and your garden.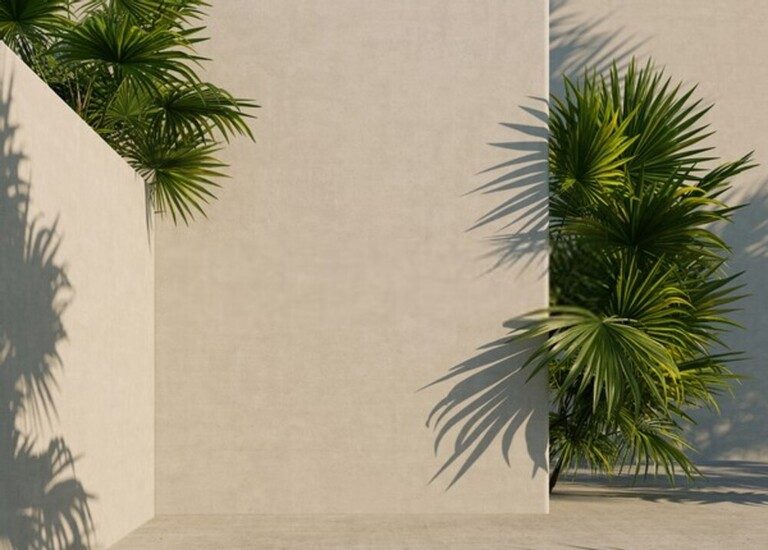 In my opinion, natural stones are a great choice to bring a subtle, gentle appearance to a garden due to their neutral color palette. Recycled bricks are sustainable. New bricks are long-lasting but not easy on the eye.
If you intend to build a brick wall, consider planting in the gaps between the stones to add a more natural look to it. Or, grow moss on the wall for a weathered looking.
Creating a living wall is another wonderful solution to increase privacy while bringing nature and interest to your garden.
Artificial is my recommendation because it is low-maintenance and affordable.
Trellis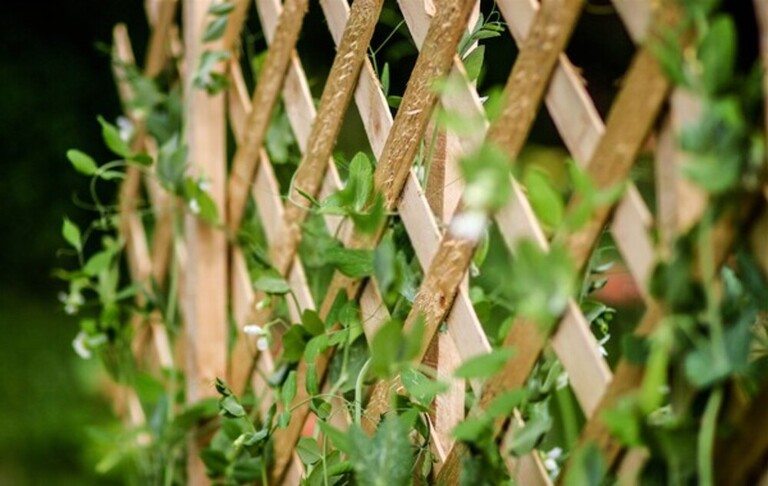 If you are on a tight budget, the trellis is an affordable solution to create a partition in your garden.
On the market, trellises come in a wide range of sizes, shapes, and materials at price ranges from $2 to $40. They are quick to install and easy to fix. You can place them lean on an already existing fence or standalone.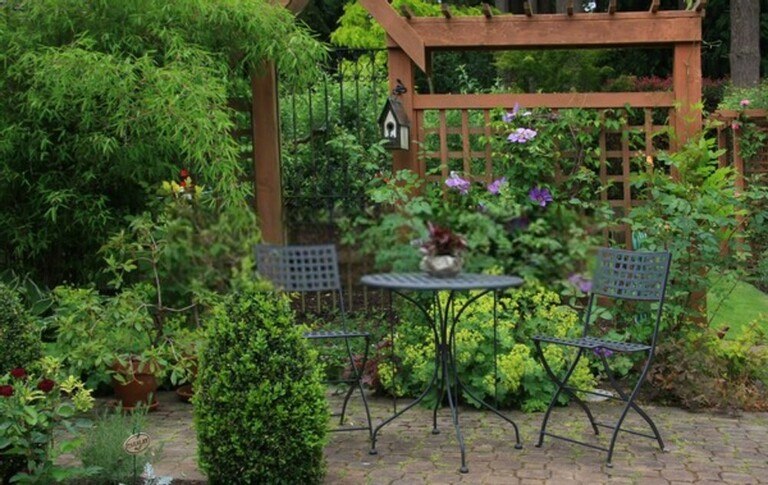 Trellis also provides a great frame for vines to climb up, creating a more natural look.
Grow Tall Plants
There are various ideas for using plants to create a partition in your garden. Creating a hedge of shrubs and climbers or a row of towering conifers is one of the most popular.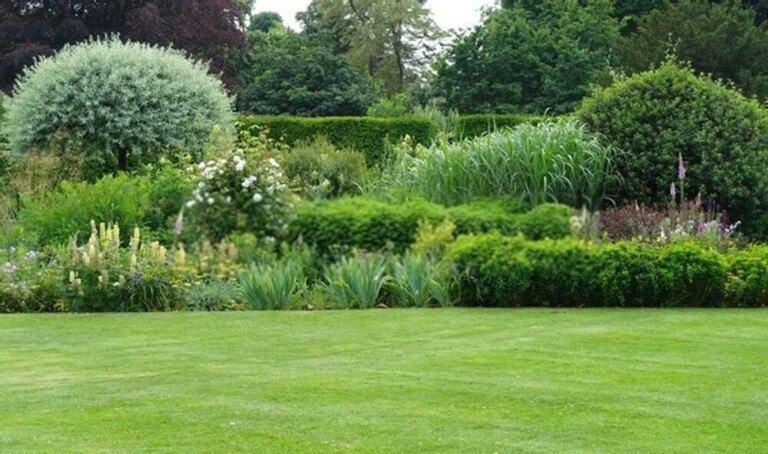 Determine the height of the partition that you want to make, then choose the right plant variety.
The biggest advantages of using plants as a partition are 1) you increase green patches around your house, 2) they are easy to trim//edge/sculpture to a desired shape or height, and 3) they look beautiful.
With those plants that have a blooming season, your garden has a seasonal look.
But before starting to grow any plants, you should consider the weather condition in your living area, your gardening skills, and how much time and effort you're willing to spend on maintaining those plants.
If you are busy, choose native plants. Here are some common options for you to consider:
Pennisetum and Miscanthus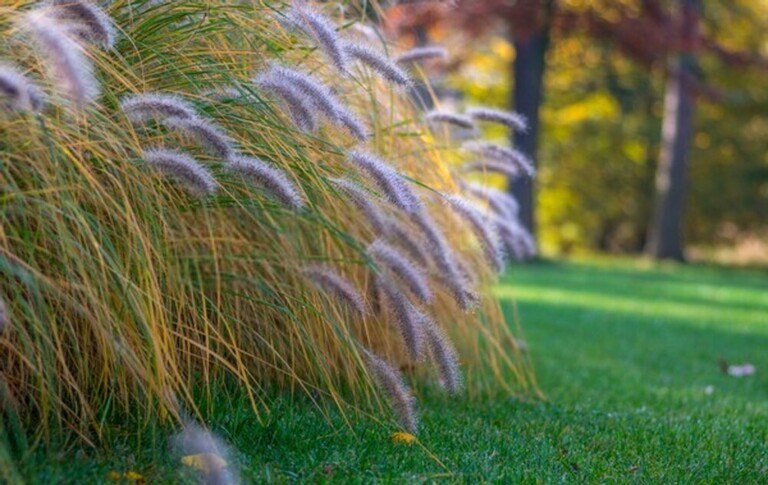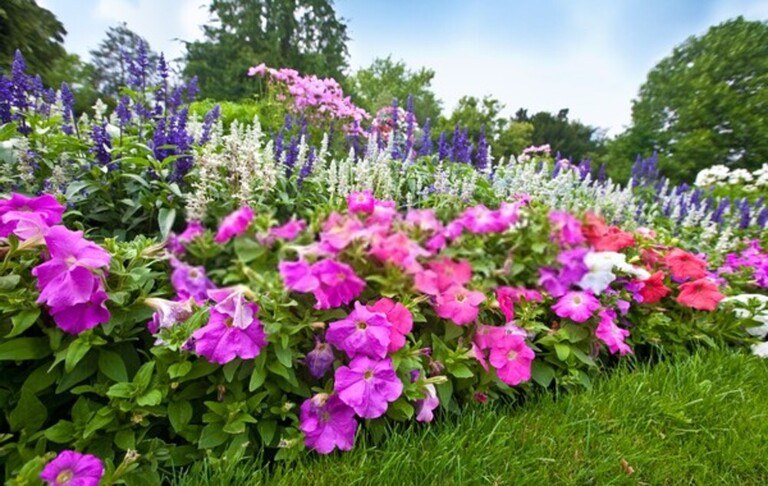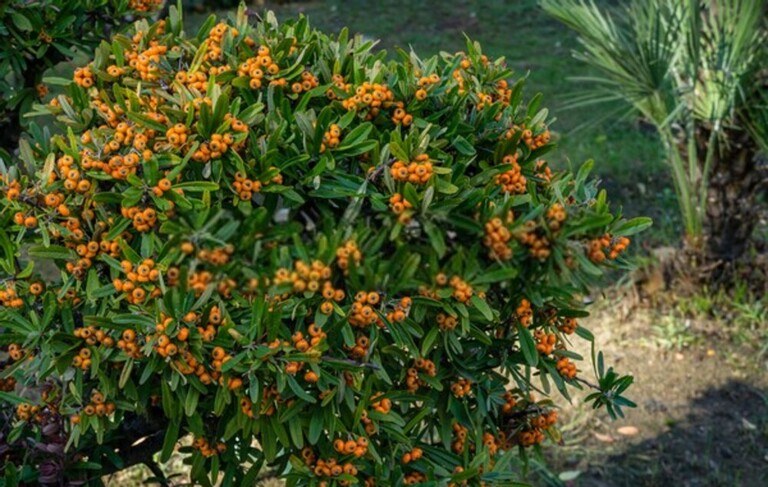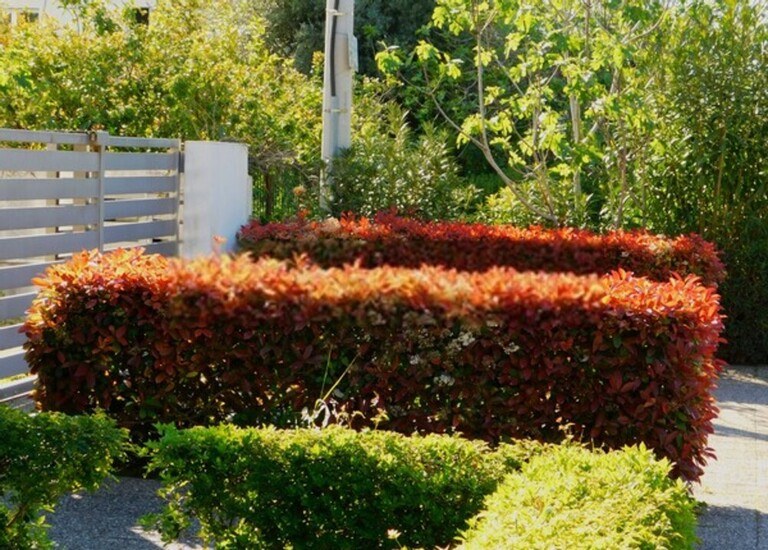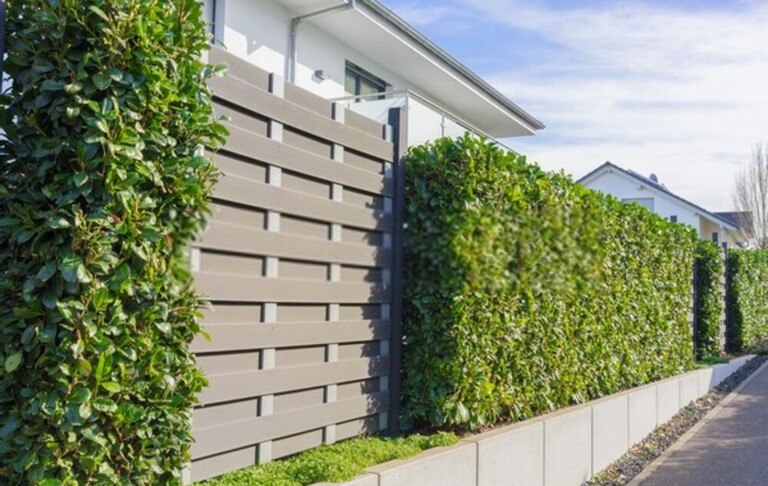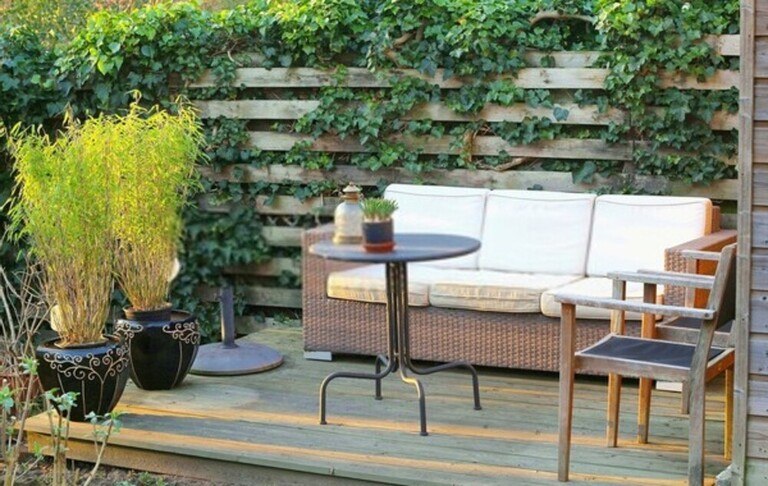 Screening Rolls
Screening rolls are commonly made of willow, rattan, reed, bamboo, and so on. They are flexible, easy to install, and low-maintenance. You can mount them on existing pergolas, arbors, stone walls, or fences using nails and screws, cable ties, or galvanized wires.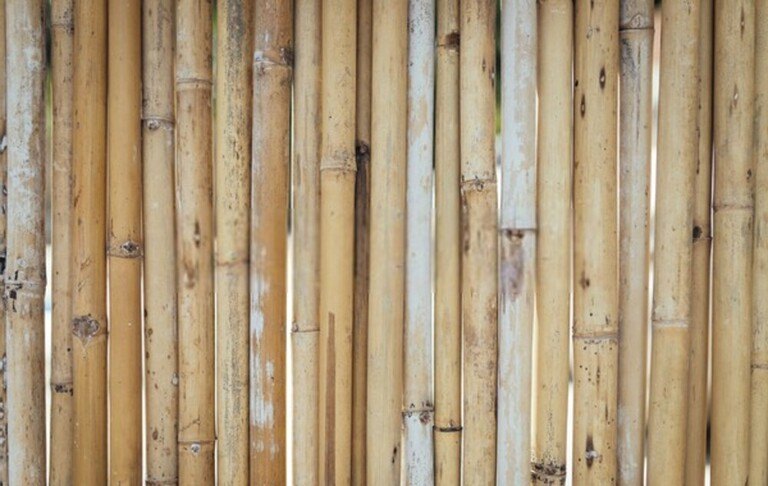 The best part is they can disguise an already existing fence or wall.
Screens
This solution is particularly perfect for small gardens. While it divides the garden into different functioning zones, screens don't make it look smaller.
Screens come in a wide range of options - solid with a motif or cut-out with a pattern, corten steel, or wood. In general, they play the role of diffusing a view rather than hiding it entirely.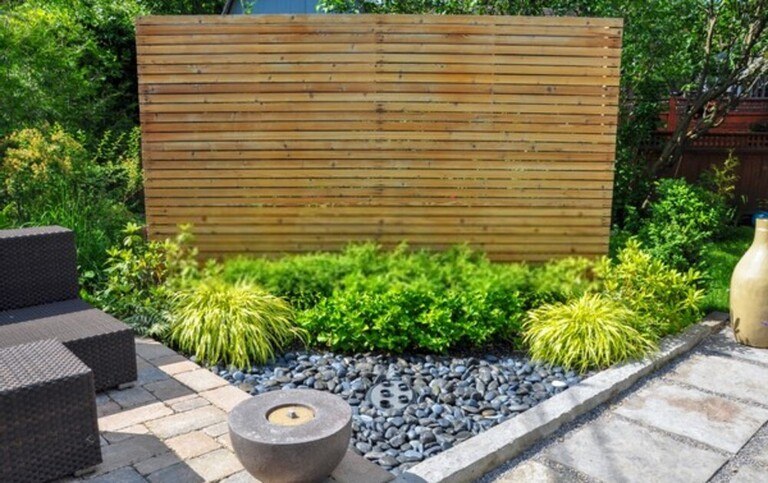 You can grow plants on them for extra privacy.
The only drawback is the high upfront cost.
Acoustic Fencing
Acoustic fencing is the best choice for those people who want to not only create a partition in their garden but also deafen the traffic noise.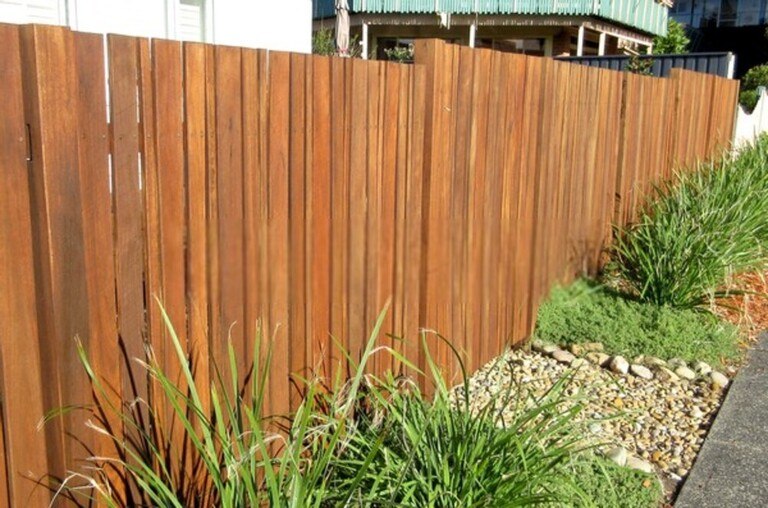 It is easy to blend into most garden styles, secure, and sustainable.
Some experts tested and proved that they can decrease noise as much as 32dB in laboratory conditions.
Modular Fencing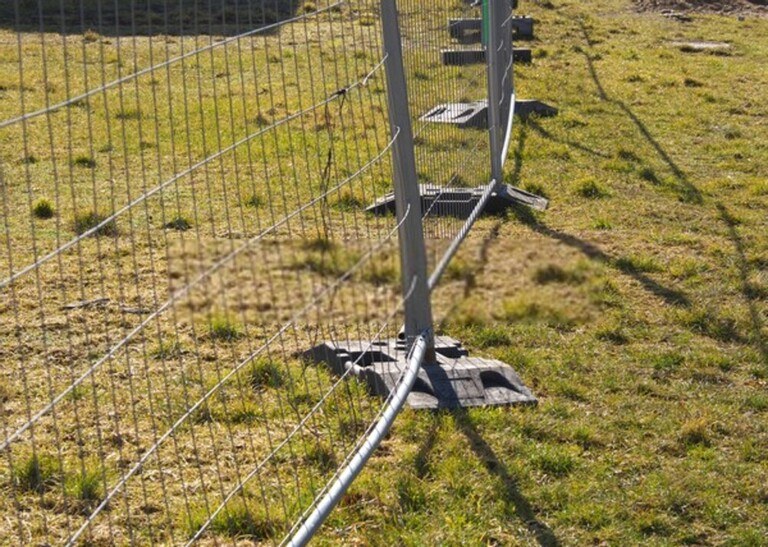 Modular fencing is my suggestion for stylish and contemporary gardens. You can easily find a bunch of modular fencing in various colors and designs to fit in your garden setting.
Made of composite materials, they are deemed to last for a lifetime. They are also easy to install and budget-friendly.
Pergola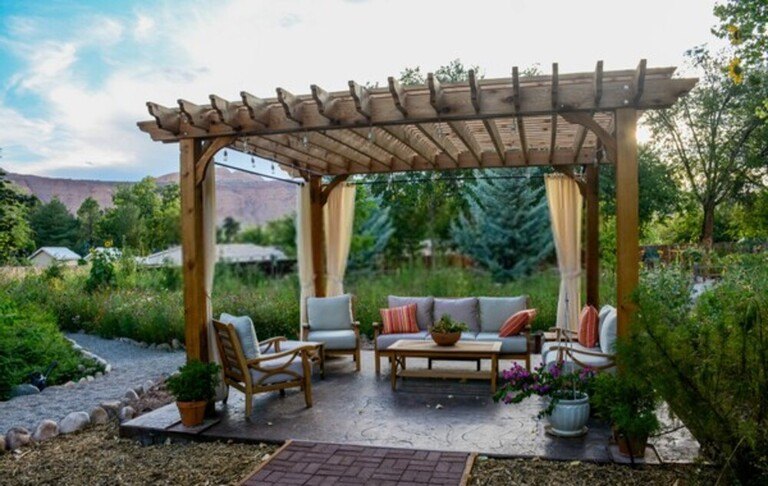 A pergola gives you the best of both worlds – adding a walled area to increase your privacy and creating a shaded area where you can sit and enjoy nature.
The biggest advantage of pergolas is that you can literally set them up almost anywhere in your garden. And, once already installed, feel free to decorate it with lights, textiles, and furniture.
Conclusion
That's all for this article! I hope that the best ways to create a partition in your garden as listed above helped you find the right one to improve privacy in your garden. Don't forget to follow my blog for more interesting articles regarding gardening. Thanks for reading!