Spending time in a Zen garden (also called karesansui, dry landscape garden, or Japanese rock garden) inspires immense peace. This is not surprising, since the main purpose of this garden type is stillness and meditation.
The good news is you can create one in your backyard. Follow this post to learn more about "How to make a simple Zen garden":
Determine The Size Of Your Zen Garden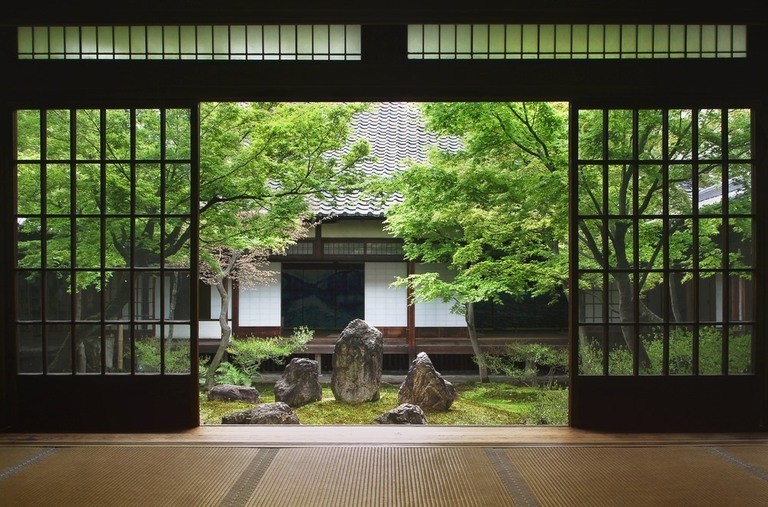 Decide if you want to use the entire of your backyard area or just a part of it for making a Zen garden. The best thing about Zen gardens is no size limit.
The size decision is more on your preference and also depends on your budget.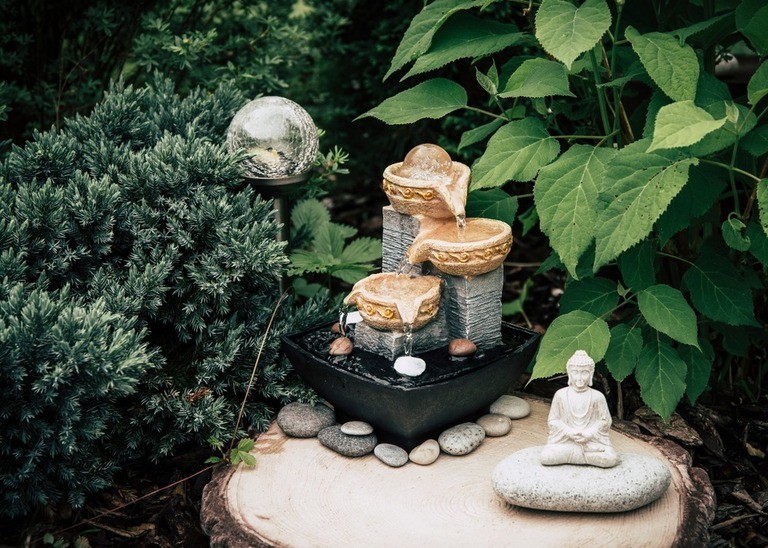 Take note that the larger the Zen garden size, the more the space for relaxing but at the same time, the higher the upfront cost.
Prepare The Space
Before starting to make a Zen garden, you need to get rid of old plants, except for a few ones that you love. It is possible to incorporate them into your Zen garden design rather than discarding them thoroughly.
After digging up the old trees and clearing off the debris, level the ground.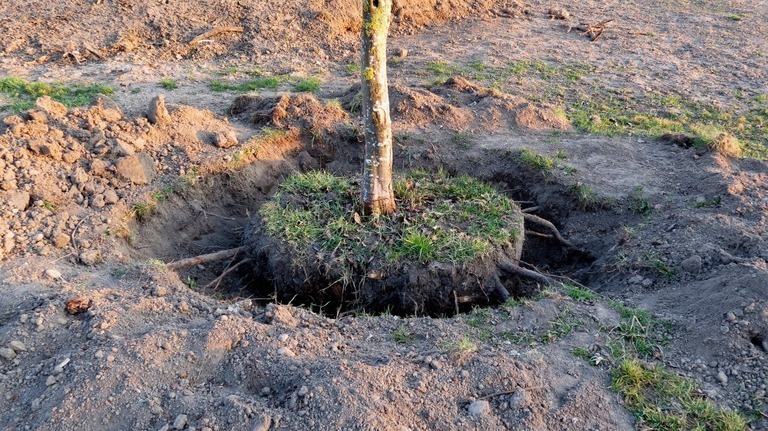 Then, lay landscaping cloth or another weed-resistant mulch on the ground.
Any Zen garden requires these five basic elements: sand, water, stone, plants, and landscaping features (such as bridges, lanterns, seating areas, and wooden furniture).
Sand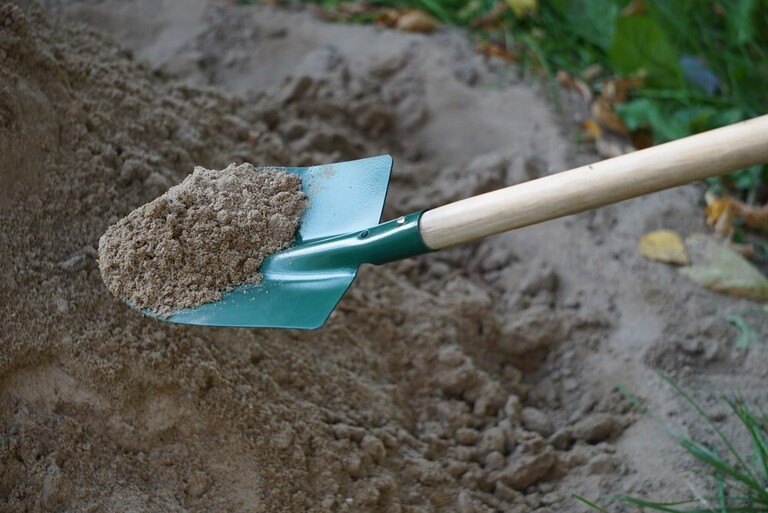 This is a symbol of purity and is either left smooth or raked in swirling patterns to represent water movements to bring a calming effect on the mind and recreate the essence of nature.
Look for fine gravel or sand.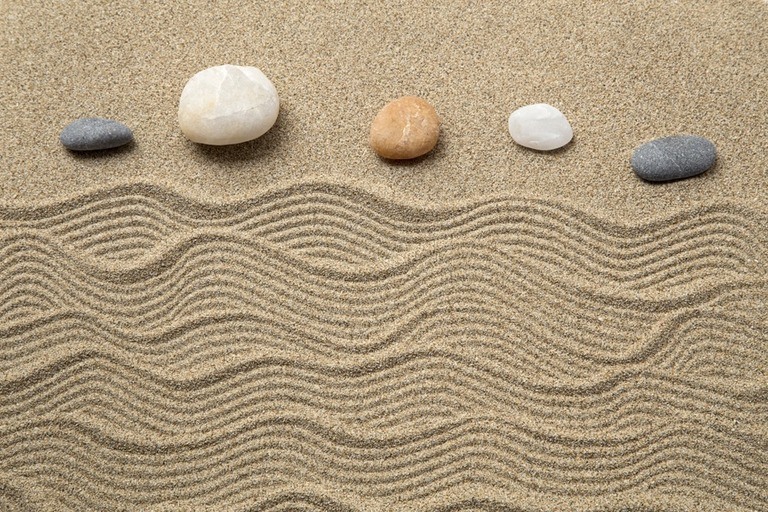 Consider choosing white sand if your Zen garden is partial to fully shady or dark sand if it gets a lot of sunlight (to prevent glare).
The required amount of sand for a Zen garden should be 4" deep.
Rocks
Rocks - also called Ishi - represent endurance and strength. There are a variety of rocks in sizes, shapes, and colors. The choice depends on what aesthetics style you want for your dry landscaping garden.
This element creates shapes and organic textures that add beauty to a Zen garden while cooperating with other natural elements flowing around it.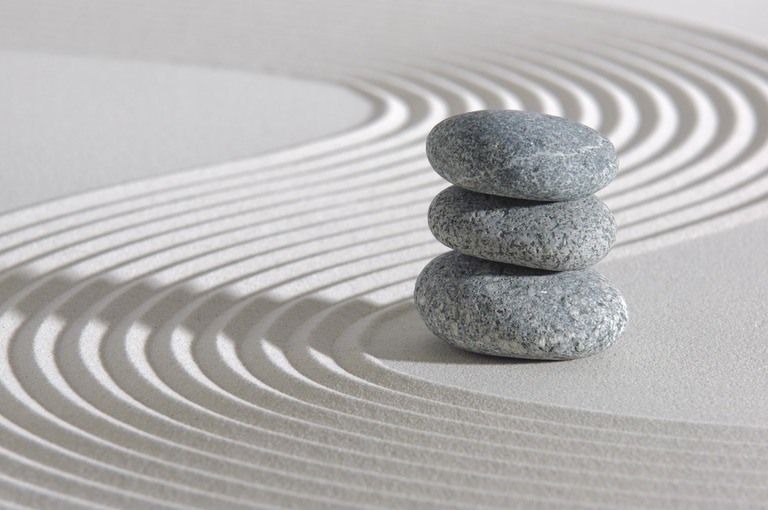 Smooth marble rocks are a great choice, especially for minimalist persons.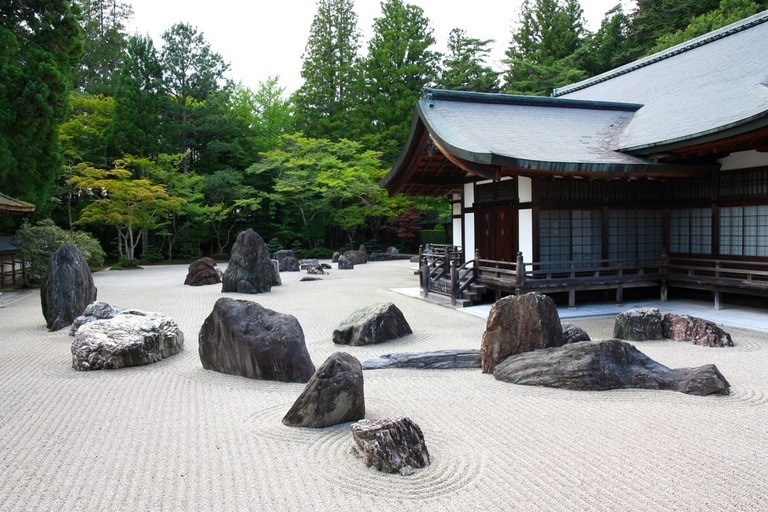 Place rocks asymmetrically on the gravel or sand layer. Then rake the sand or gravel around these rocks in the patterns that you like. Consider placing other rocks around your garden, whether under a tree or in a patch of moss, as long as you feel appropriate.
Water
This is a preference issue!
Some dry landscaping garden enthusiasts prefer an arid aesthetic. They will skip plants and concentrate on the other four elements: sand, gravel, rocks, lighting, and plants.
Meanwhile, many others love the energy provided by the water element – which is perfect for Zen gardens of all sizes. Consider installing one of the archways that creates a curtain of water or a small fountain.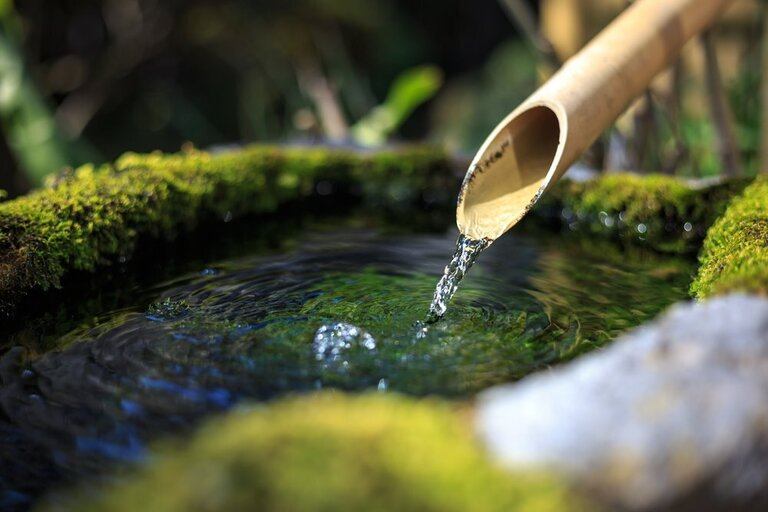 If you're working on a large scale, think about building a flowing waterfall type of thing.
Plants
Think about the plants you want to add to the space?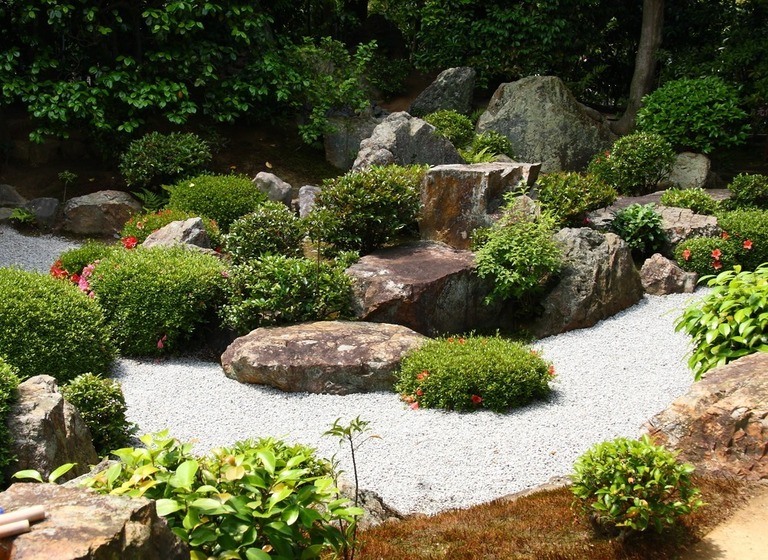 If you like to have some lush vegetation around the periphery, consider planting a big tree with a few bushes underneath it. Then, grow some climbing plants around the bottom for organic dispersal.
Here are some of the plants you might like to grow together:
Pine trees
Juniper trees
Cedar trees
Japanese maple trees
Ferns
Azalea trees
Peony plants
Bamboo
Pachysandra
Thyme plants
Moss (lots of moss)
…
For those Zen gardens that have a pond, add some water-loving plants around the outside. Lotuses and water lilies are two common choices.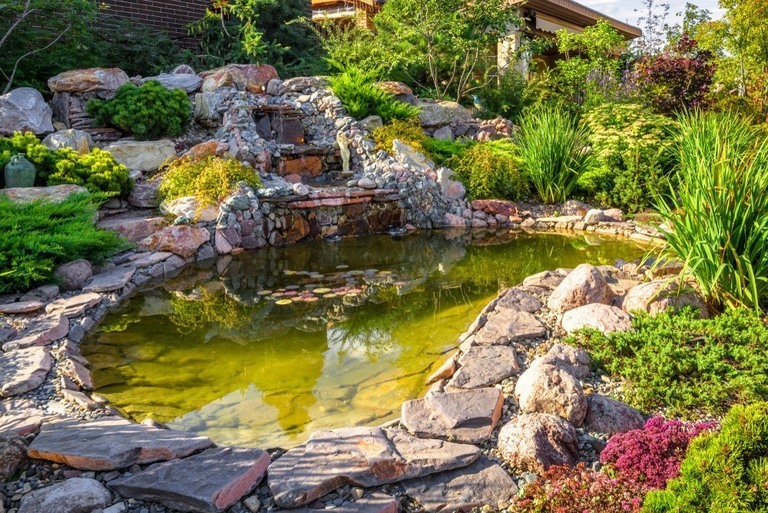 Feed koi fish if you like.
Landscaping Features
Lanterns
Lanterns represent enlightenment.
Dai-dōrō stone lanterns are very popular in dry landscaping gardens and they represent one of the five essential elements in Buddhist cosmology.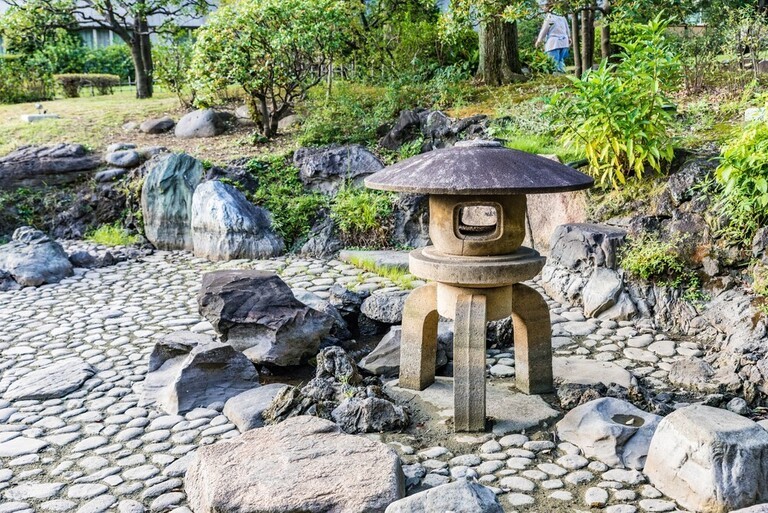 The part touching the ground represents the earth. As moving up above the lantern, the images represent water, fire (or, light), air, and spirit.
In addition to stone lanterns, you can also hang real ones around your space. These will allow you to enjoy your garden at night as well as during daylight.
Bridges
This element represents the journey you are all taking towards enlightenment and also brings a change in perspective (small though). With just a little bit of self-enhancement, you can see aspects of the world around you in new ways.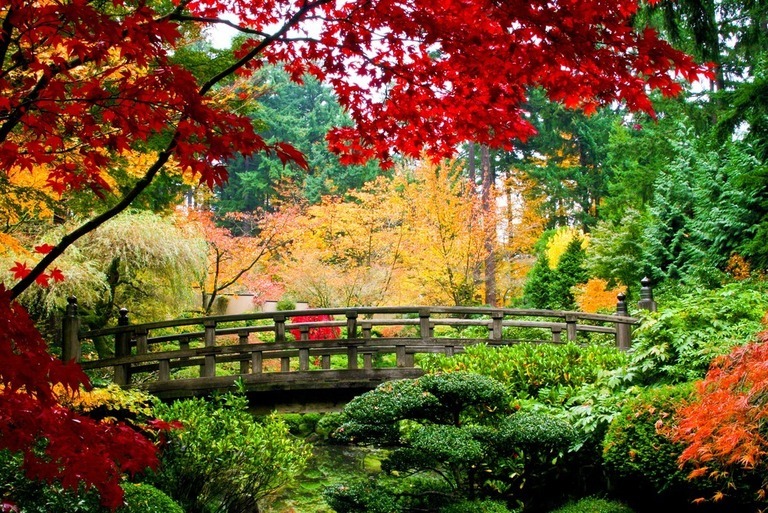 For large-sized Zen gardens, a large, wooden bridge over the pond is worth a try while a smaller one helps add interest and height to the wooden walkway.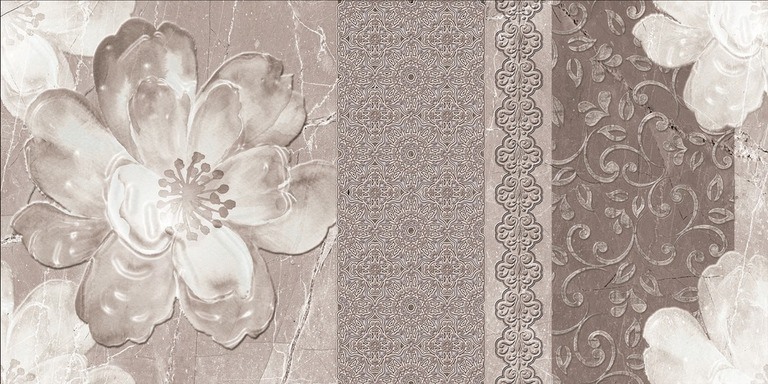 For narrow Zen gardens, have a bridge or fountain garden sculpture instead.
Seating Areas
Many people create a Zen garden to spend time there.
If that is also your purpose when making one, focus on the comfort of the seating area.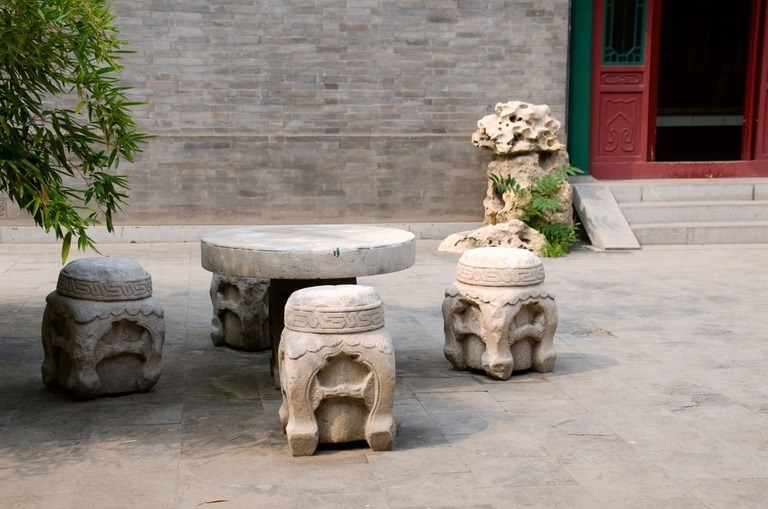 A simple seating area idea is a stone or wooden bench. Rattan seats are another good choice due to their decent weatherproof properties.
Place several seats around your Zen garden to get a seating area by the water at sunset or in a shady spot at noon.
Wooden Furniture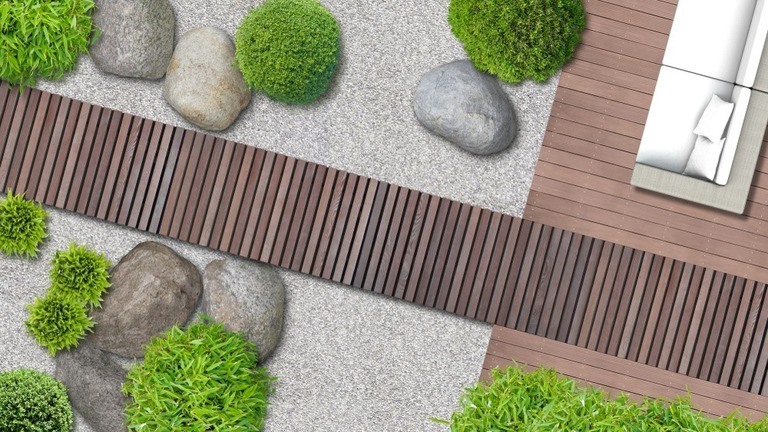 If you want to add a walkway or a seating area, try utilizing wood as the main building material.
Cedar and ebony wood are two popular options.
Ebony wood stacks beautifully against gravel and white sand to create an intense aesthetic attraction.
Cedar distinguishes itself from the beautiful natural wood color and is perfect for fighting irritating insects.
Conclusion
I have just walked you through my post on "How do you make a simple Zen garden". Any space can be a karesansui. It's all about the thought you bring to it, and the peace it can bring to you. Thanks for reading!