Using old items around the house to decorate your garden is a pretty cool idea. Not only does it cost money, but it also helps to reduce waste into the environment.
The more unique your idea in recycling things, the more impressive and outstanding your garden will become.
But if your creativity is limited, let us give you some suggestions. Here are ways to decorate your garden with recycled materials.
Old Plastic Bottles
Transforming old plastic bottles into planters is perfect for small and lightweight plants and flowers. There are different ways to transform old plastic bottles into planters.
Hanging Planters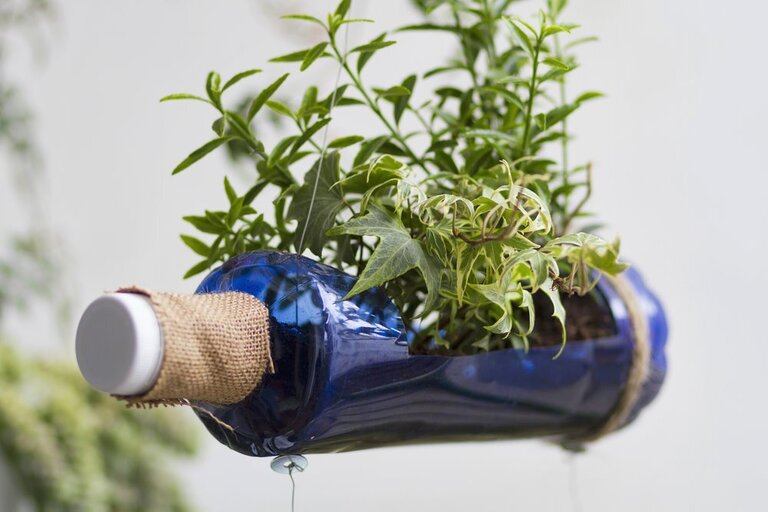 Make sure these empty plastic bottles still have caps. Cut out the body of the bottle. For extra safety, sandpaper the rim of the cutout part.
Now, create a hook to hang your planter on. There are two ways: either make two holes or wrap wires around the neck and the bottom of the plastic bottle. Choose sturdy, thick wires that can hold the weight of the bottle, soil, and plants. Such as ropes, metal wires, or plastic wires.
To make it look more aesthetic, paint the bottle or wrap the neck with canvas fabric as in the picture above.
Once everything is done, add potting soil, sew plant seeds or transplants, and water them.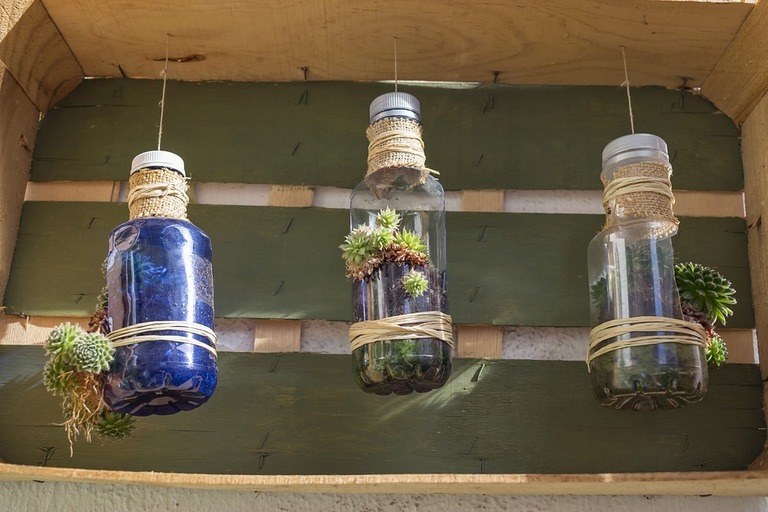 If it is easier for you to hang the bottles vertically, try it.
Vertical Mini Garden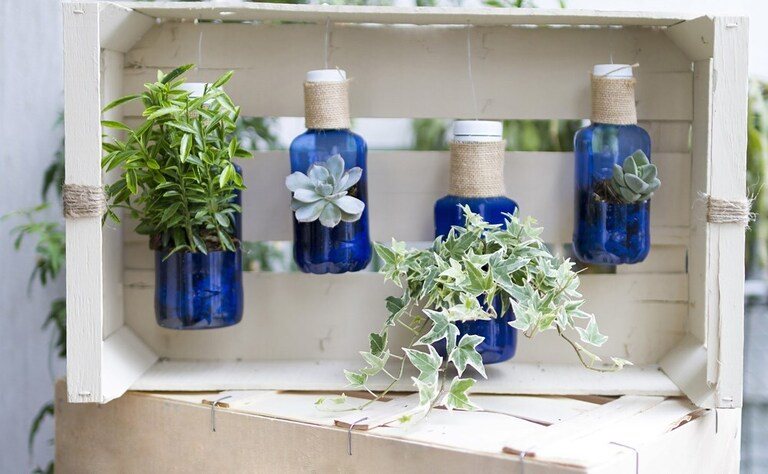 If you have many old, empty plastic bottles at hand plus an unused drawer. Create a mini vertical garden on your own.
Some paintings might require giving them a new look and more uniform.
Again, cut out the body of all bottles, sandpaper the cutout rims, and mount/glue them on the largest flat surface of the drawer. Choose your favorite layout for these bottles.
Add soil and plants and water them well.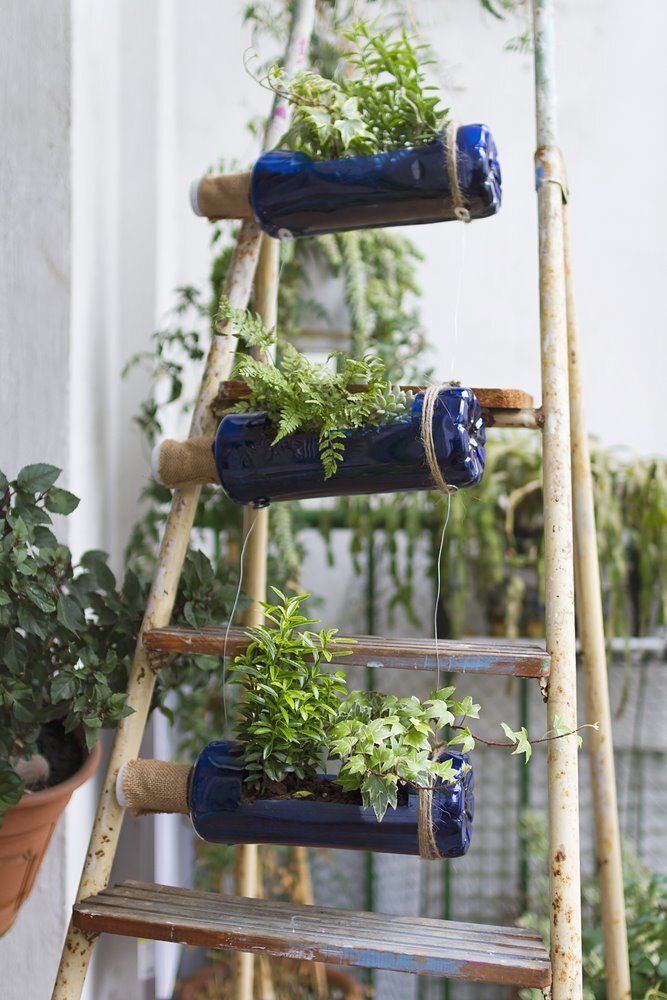 For larger plastic bottles, consider this vertical garden idea.
Decorative Items
You'll need:
Paints
Painting brushes
Old plastic bottles
A pair of scissors or a knife
A pair of gloves (for safety when you cut the bottle)
A creative mind
Here are some interesting ideas for you:
Lovely kitties: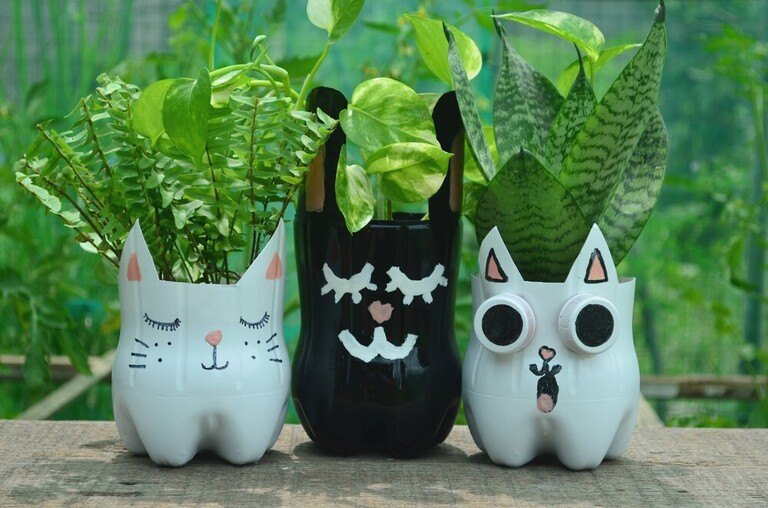 Flowers: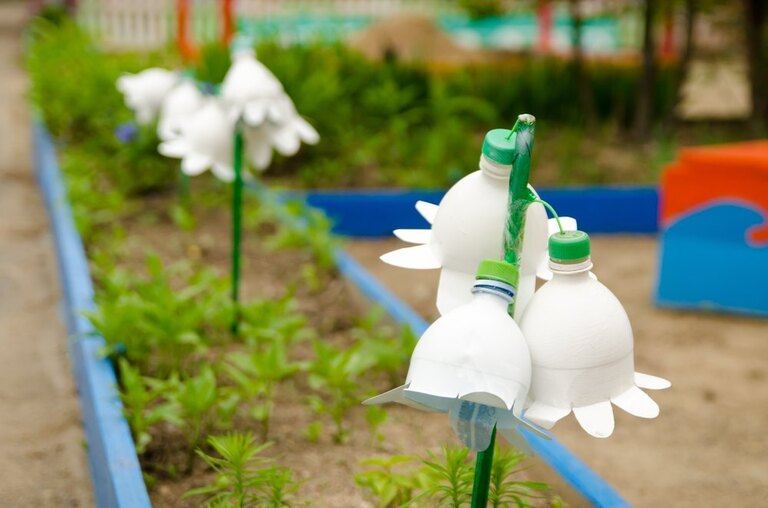 Lovely rabbits: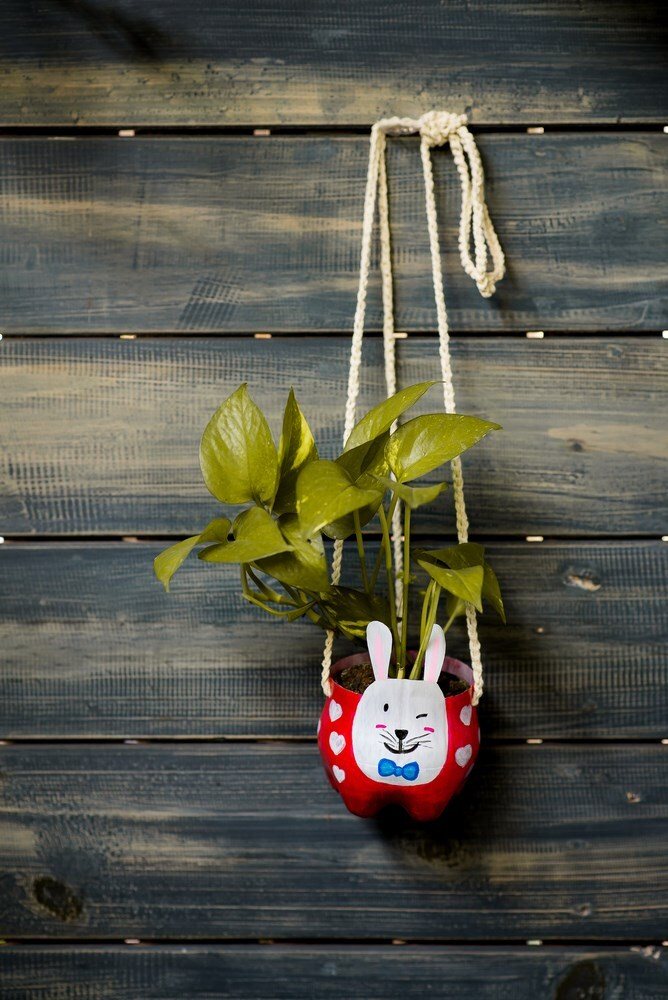 Vehicles: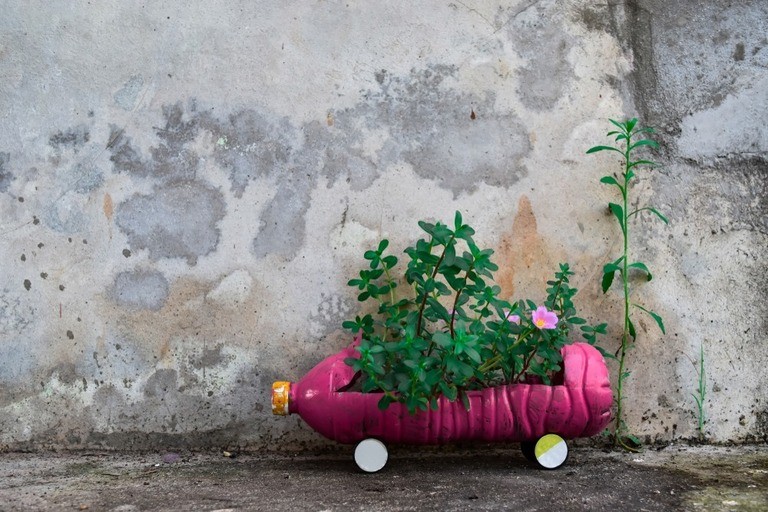 Pigs: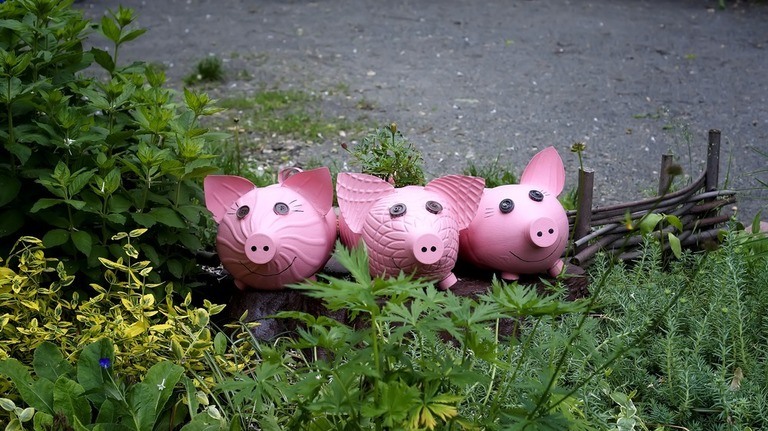 A mushroom and a hedgehog: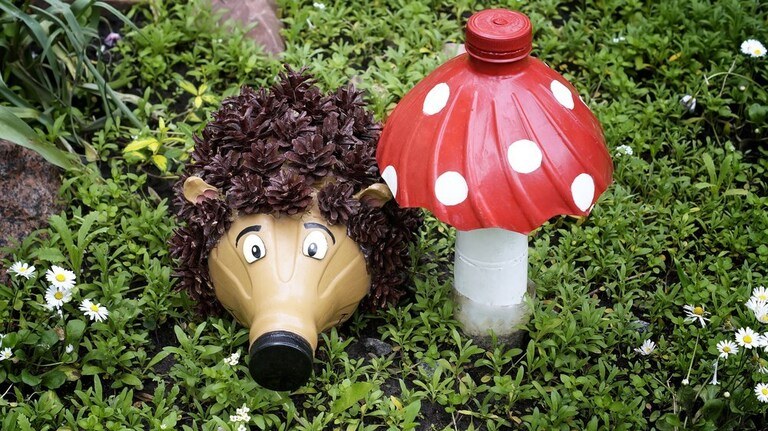 Chair Cushions
This idea is a wonderful combination of an old metal chair and old plastic bottles.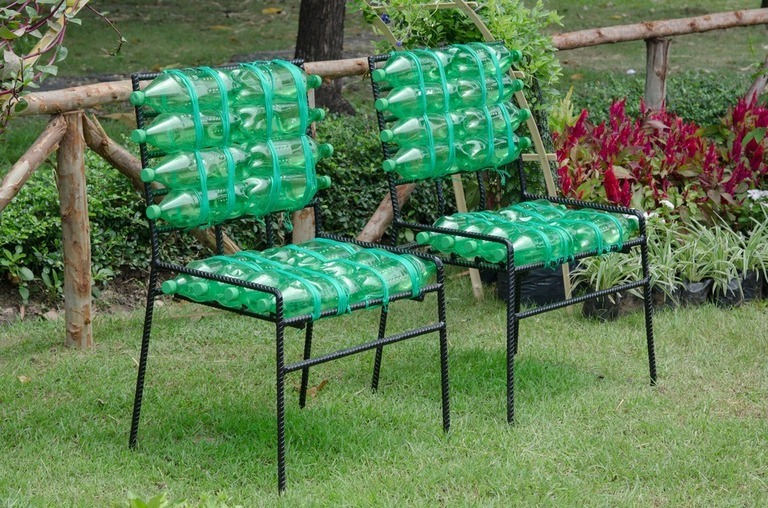 Remember to tie or glue these special cushions thoroughly to the chair so that they don't be blown off by strong winds. Give them a new coat if you have time.
Note: These cushions might make some funny noise when you sit on them.
Unused Mason Jars
Transforming unused mason jars into planters is similar to the one above.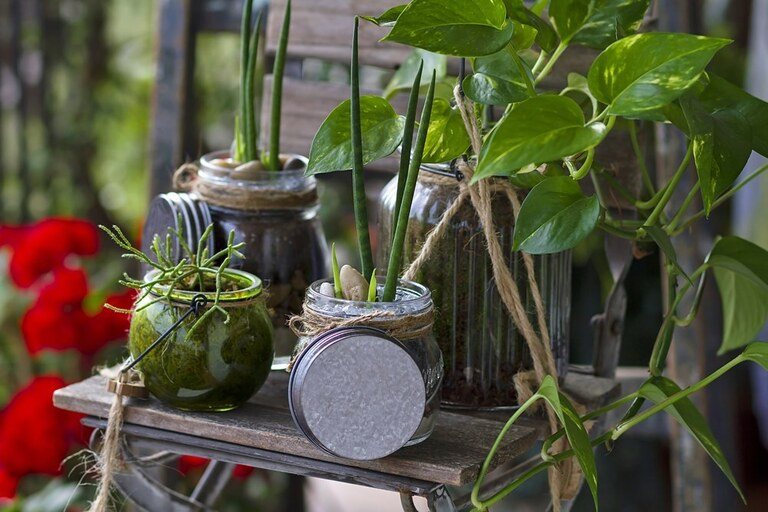 Important notes:
Mason jars are made of glass which is prone to break, therefore, it'd be better to place them on the floor, a shelf, or a table rather than hanging them up.
Avoid placing mason jars in sunny spots because glass is prone to heat up, which might burn your plants. The best place for them is partially shady or fully shady.
Old Tires
Raised Beds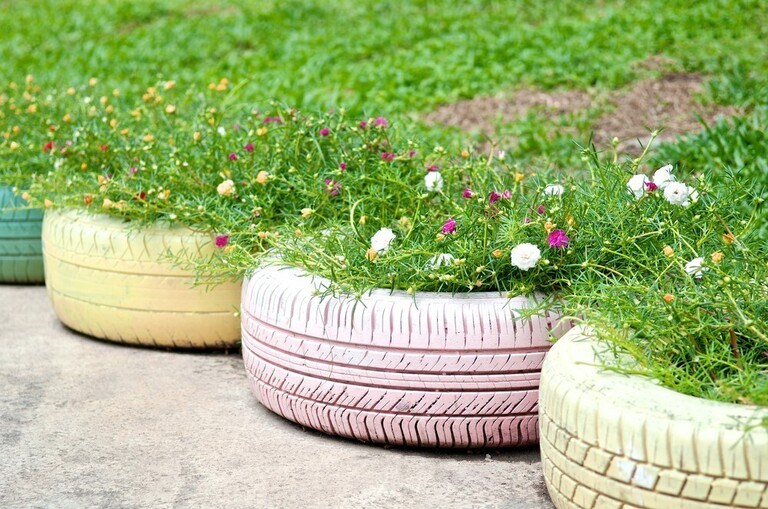 Raised beds are known as an effective way to keep weeds at bay as well as protecting your plants against small plant-lover animals, such as rabbits.
If you have some old tires in your garage, transform them into lovely raised beds. Lay them on the ground or on racks like this: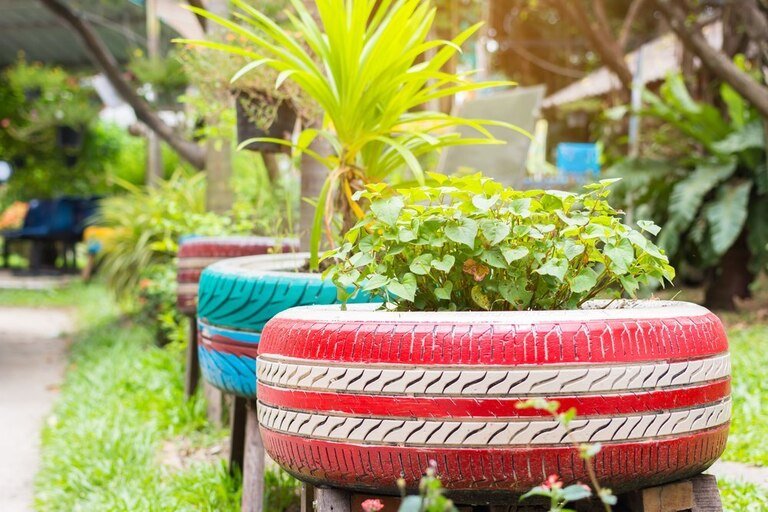 But note that if you want to try the second idea, choose plants with shallow root systems only.
Finally, paint them if needed.
Here is another creative idea of raised beds made of old tires: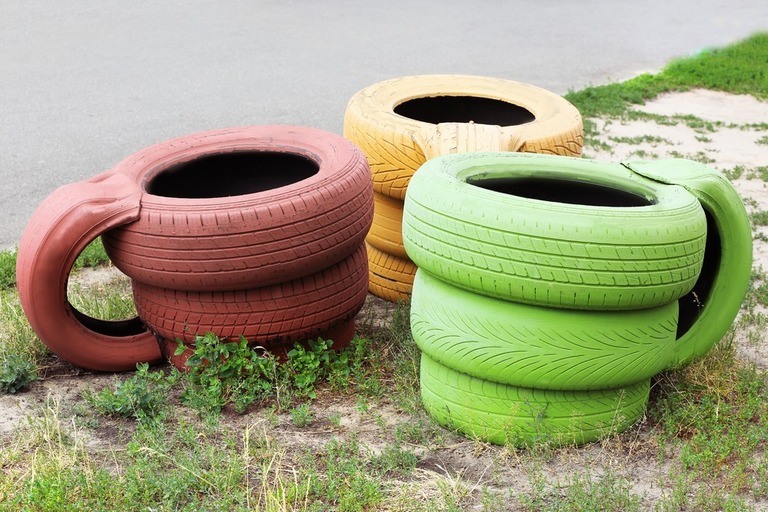 Flower Beds
If you have many old tires of different sizes, try this idea:
Note: Place the largest and heaviest tires at the bottom while the smaller and lighter ones on the top. Once added with soil, they become heavier to stay secure in place so you don't have to nail or glue them.
Vertical Garden
Line your old tires along a fence or blank wall area like this: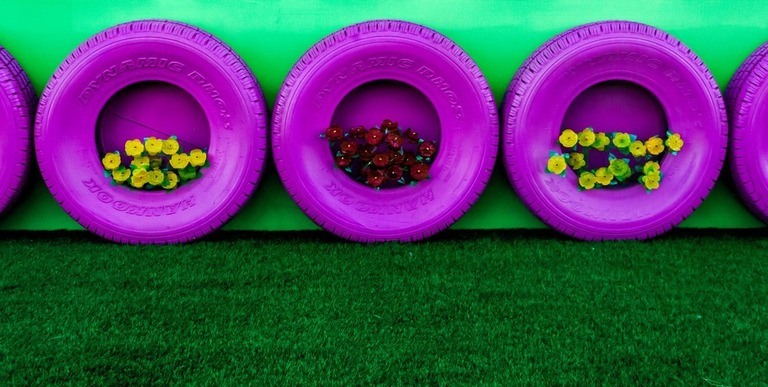 Then, add potting soil and plants. Paint these tires in one or multiple colors due to your preference. Same with the plant choices.
Hanging Planter
This idea is also worth a try as long as you are strong enough to punch holes in the tire.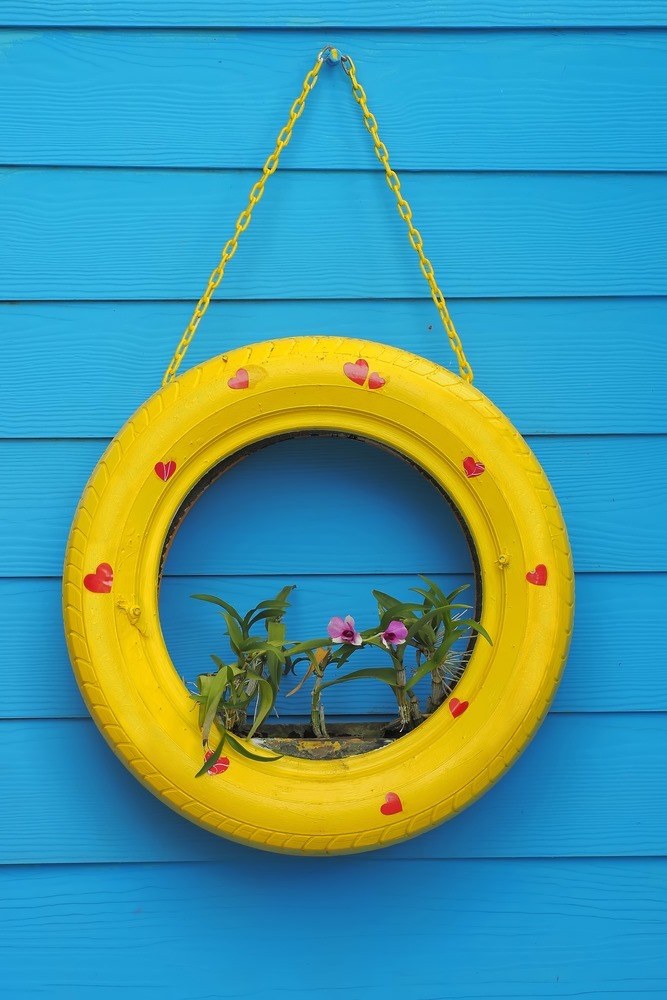 Decorative Items
There are numerous ways to transform old tires into decorative items. For example:
A beautiful sun: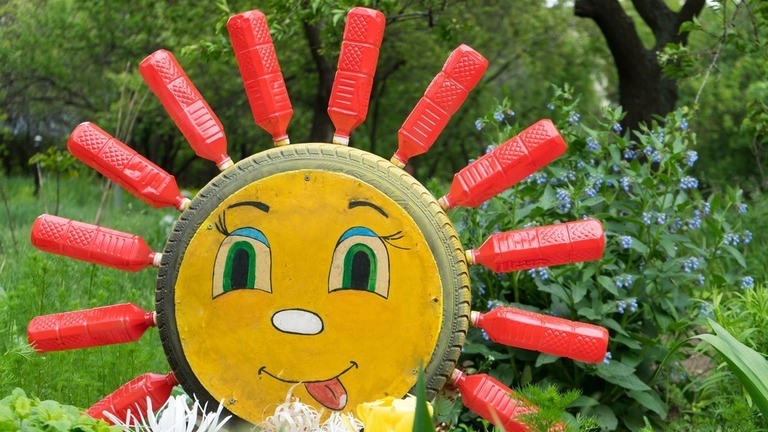 The Kungfu Panda: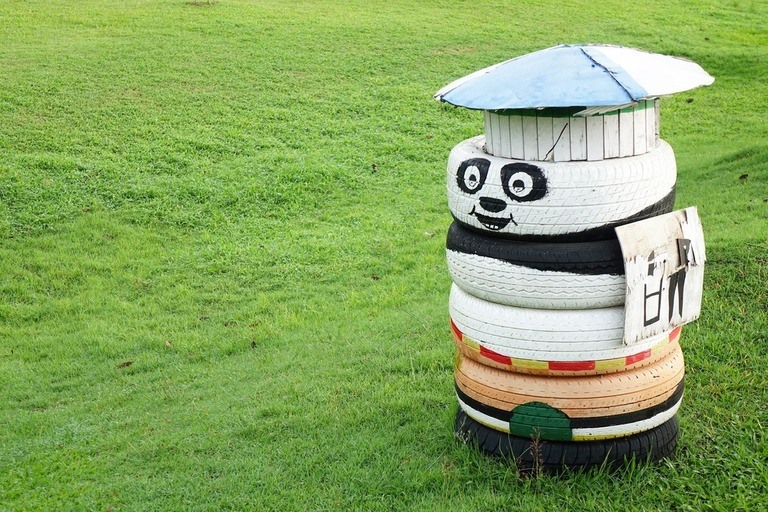 Armchairs: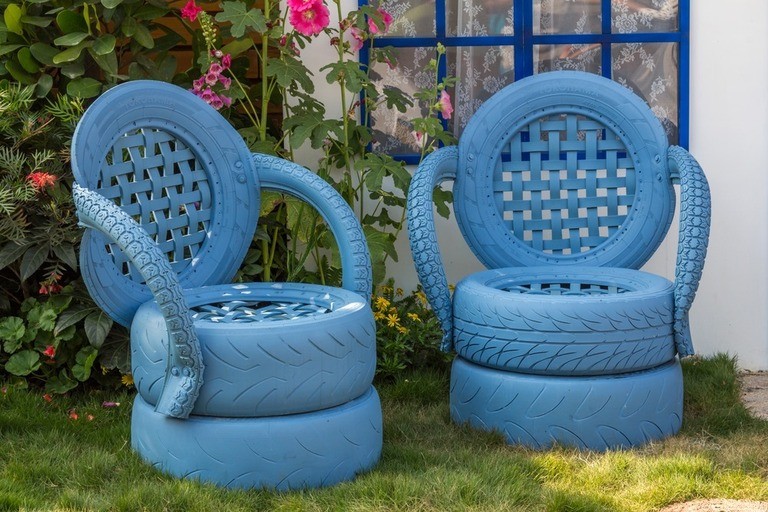 A set of stools and a table: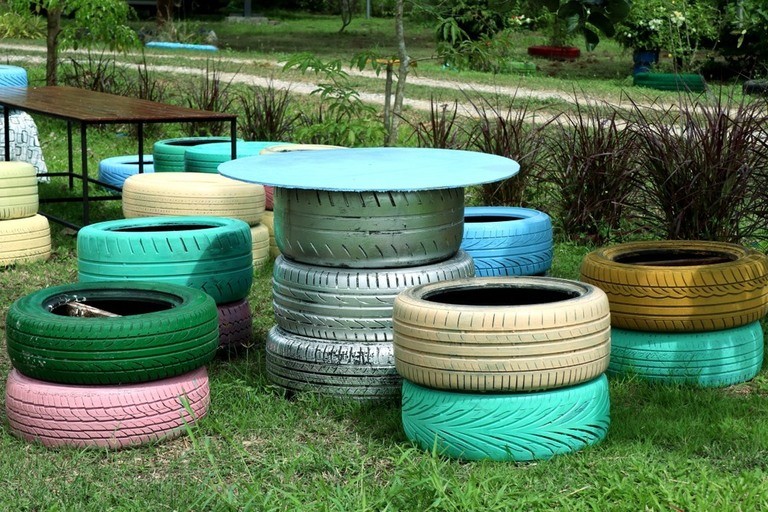 Snowman: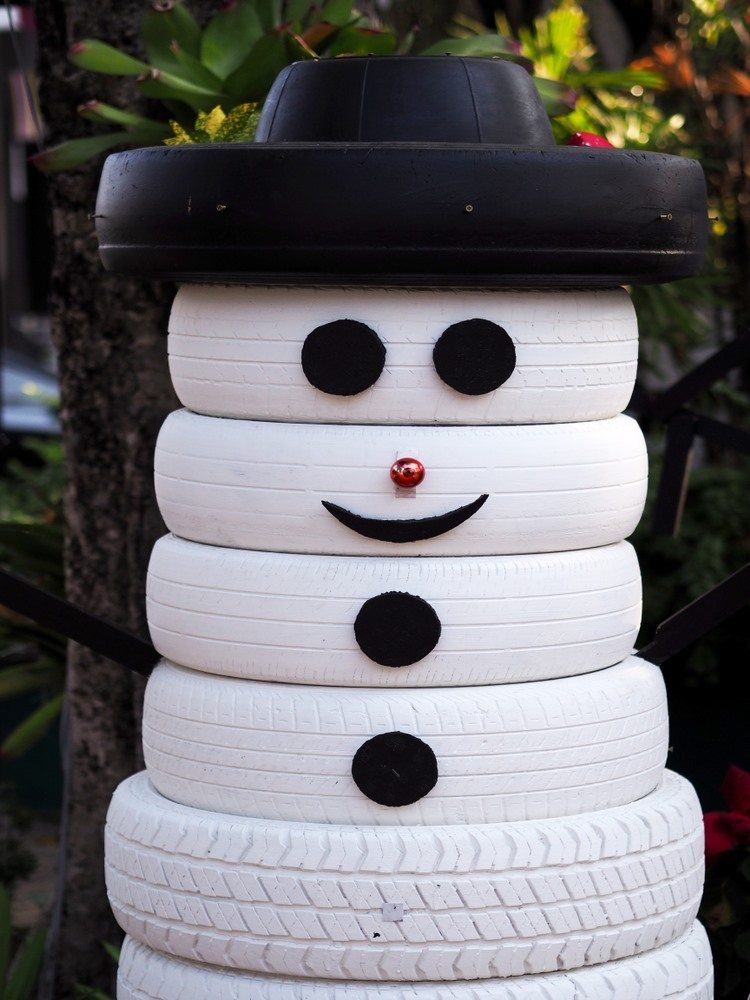 Unused Cooking Utensils
Planters
Take advantage of your old coffee pots and teapots to make some vintage planters for succulents or any plants with a shallow root system.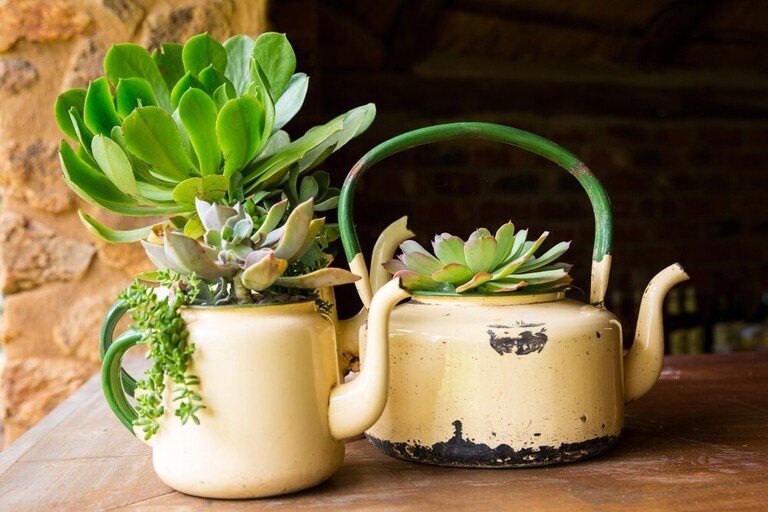 Similarly, recycle an unused cup.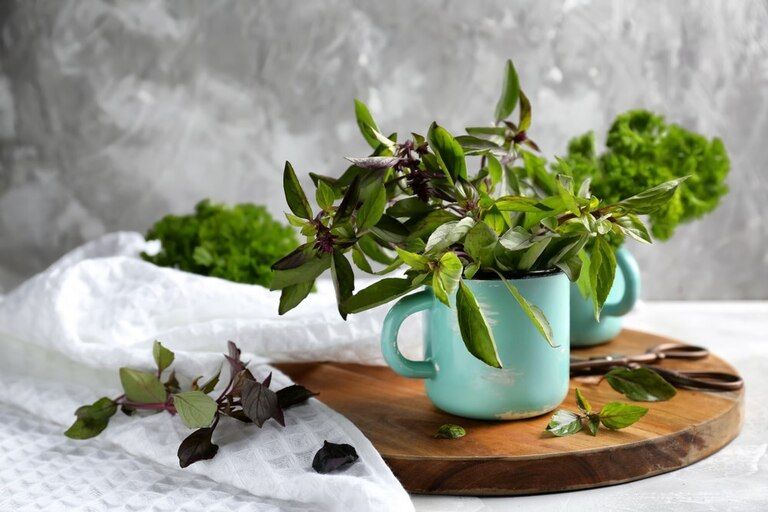 Windchimes
This idea is perfect if you have different unused, small cooking utensils.
A smart way to free up space in your kitchen cabinet and add beauty to your garden without costing any bucks.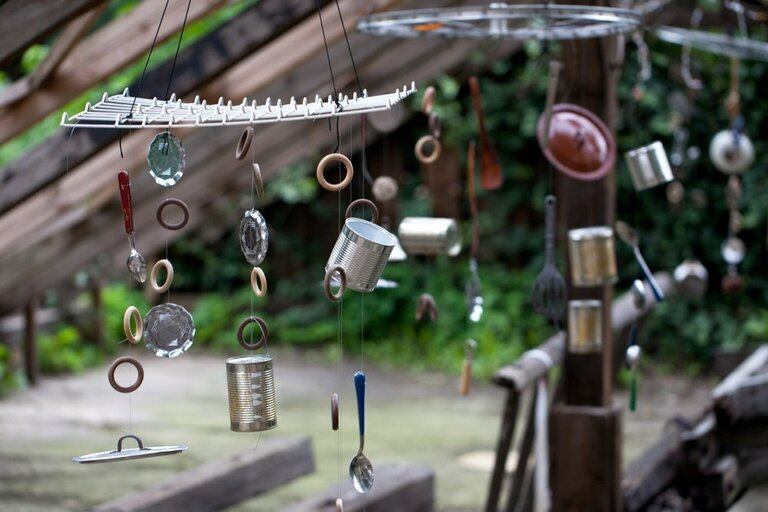 Old wooden pallets
Wall Garden
One of the most popular ways to recycle old wooden pallets is to transform them into a walled garden.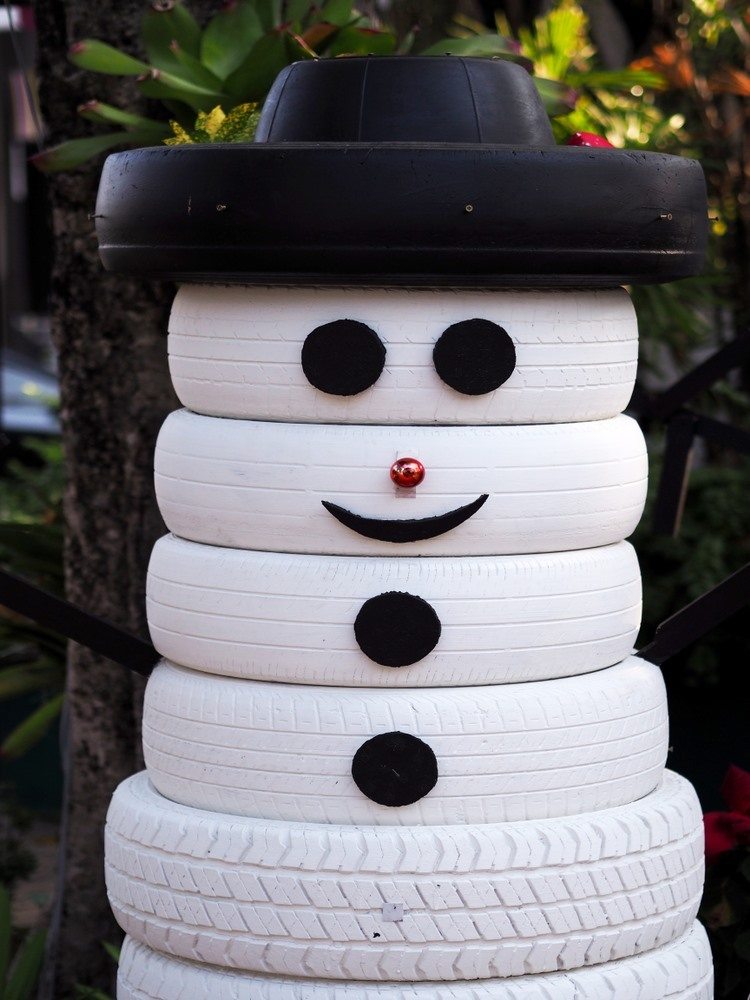 Raised Beds
Place the wooden pallet horizontally on the ground like this: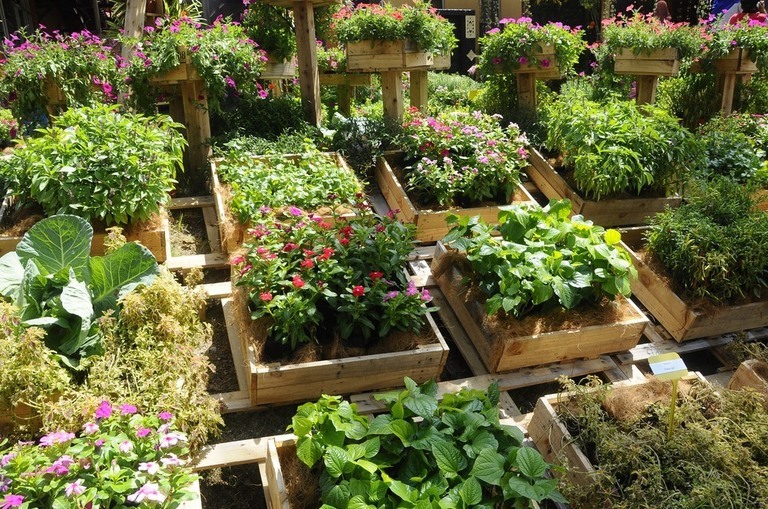 Or group multiple wooden pallets vertically to create a higher raised bed: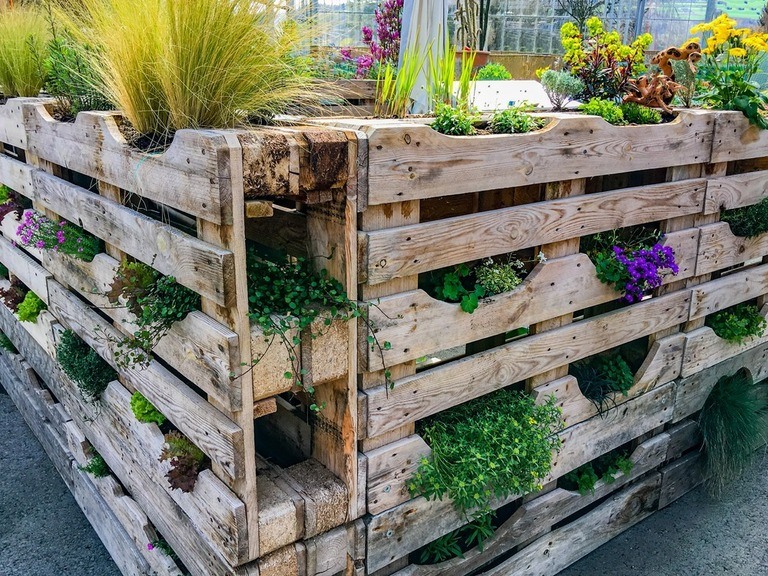 A Set Of Tables And Chairs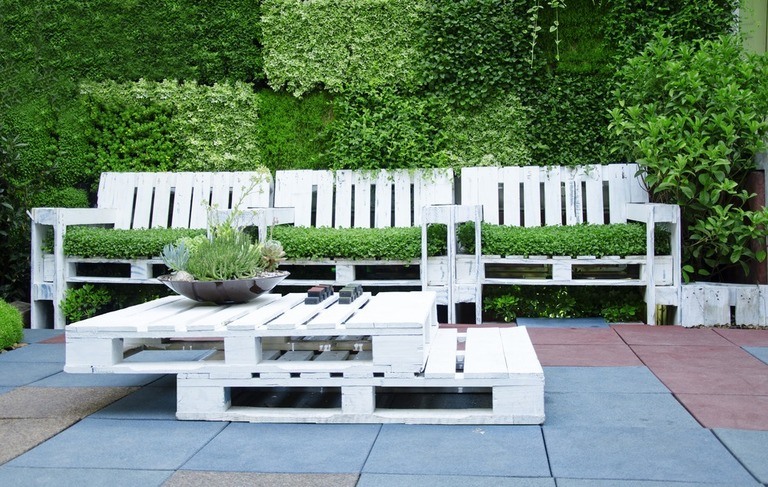 More ways to decorate your garden with recycled materials
From an old microwave: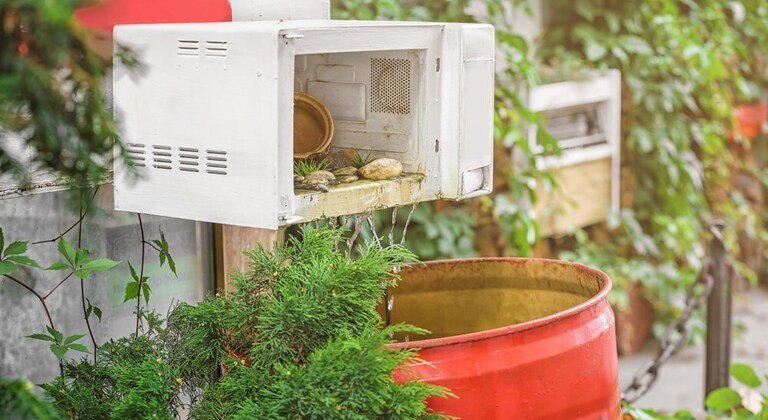 From unused drawers: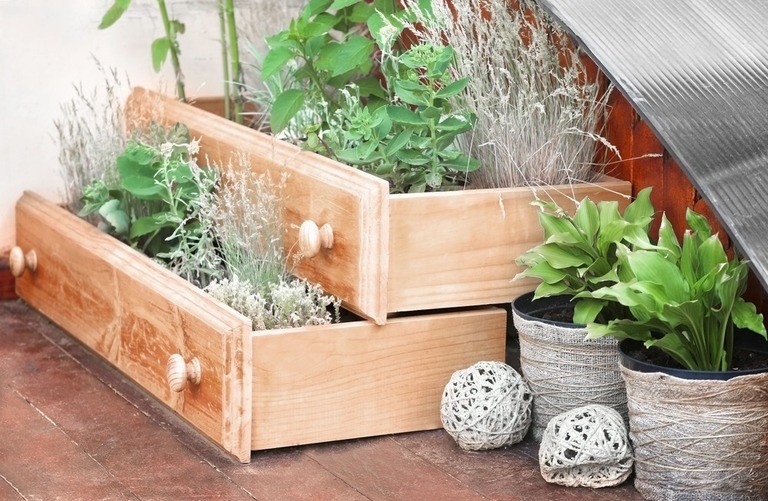 From tin cans: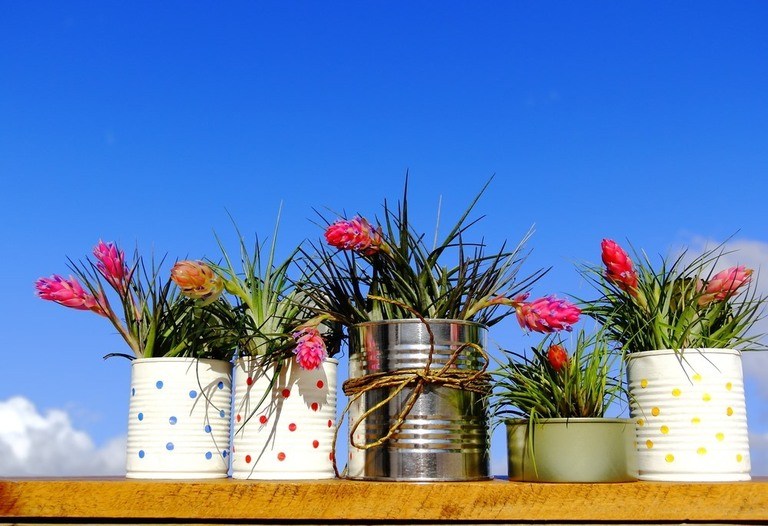 From old toilet: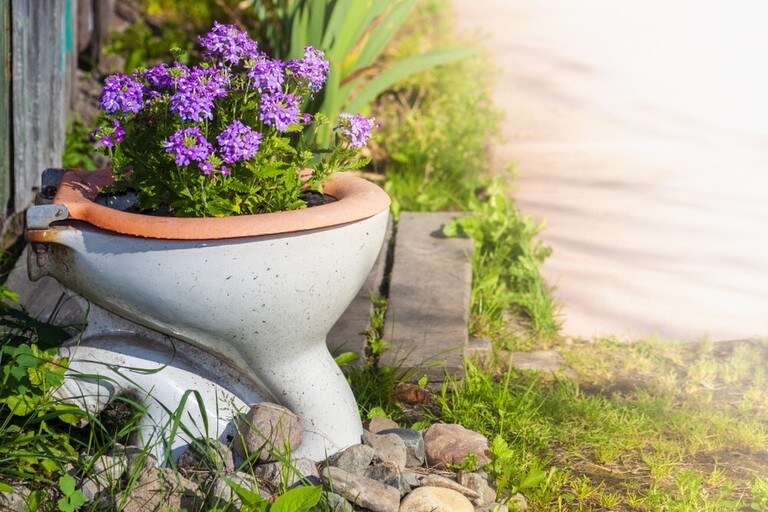 From old shoes: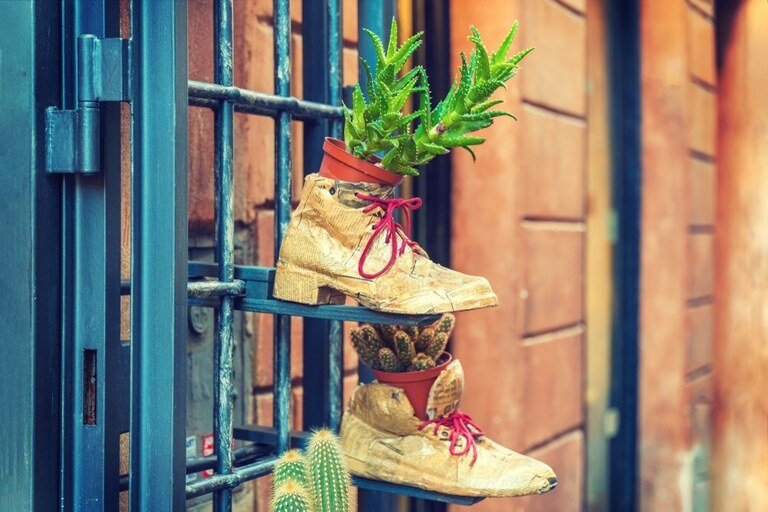 From old wheel frames:
From old hats: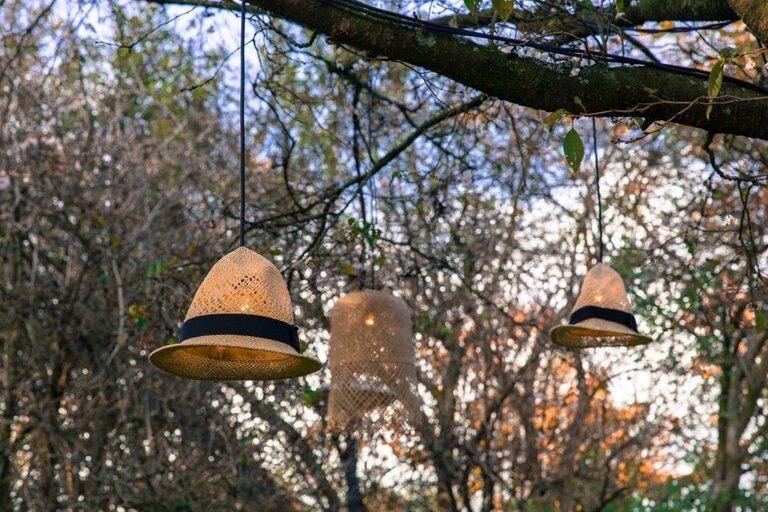 Conclusion
We've tried our best to provide you with the most ways to decorate your garden with recycled materials. Hope that these ideas helped you find out the right options for your unused item, garden-style, and preference. Thanks for reading!