Treehouses have been the favorite playground of both kids and adults for decades and DIY-ing one makes it even more exciting because you can customize the house style, layout, and interior space.
If you're looking for some interesting treehouse ideas for your backyard playhouse, keep reading!
Military-Style Treehouse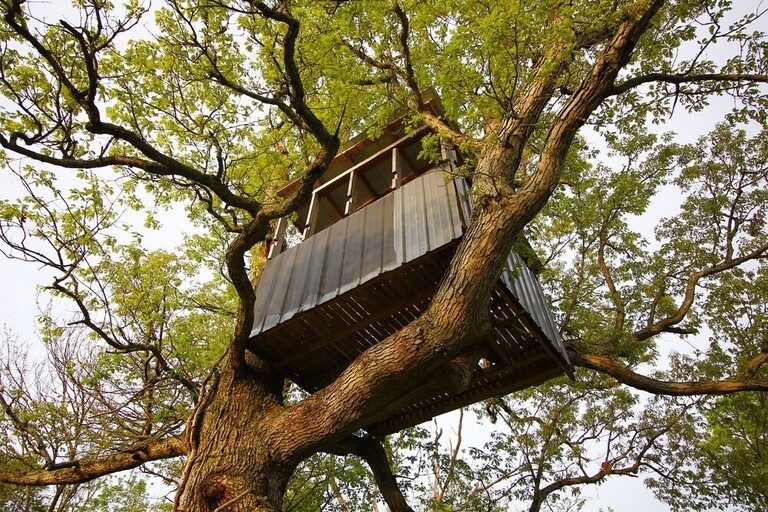 Military-style treehouses are easy to install and multifunctional.
While providing a playground for kids, it becomes a wonderful lookout post for your little guards to watch the surroundings. It is also fun to play some role-playing games there.
To ensure the treehouse's safety, look for a tall and sturdy tree. The interior area doesn't have to be spacious, but just enough for kids to fit in and enjoy their game.
Cabin-Style Treehouse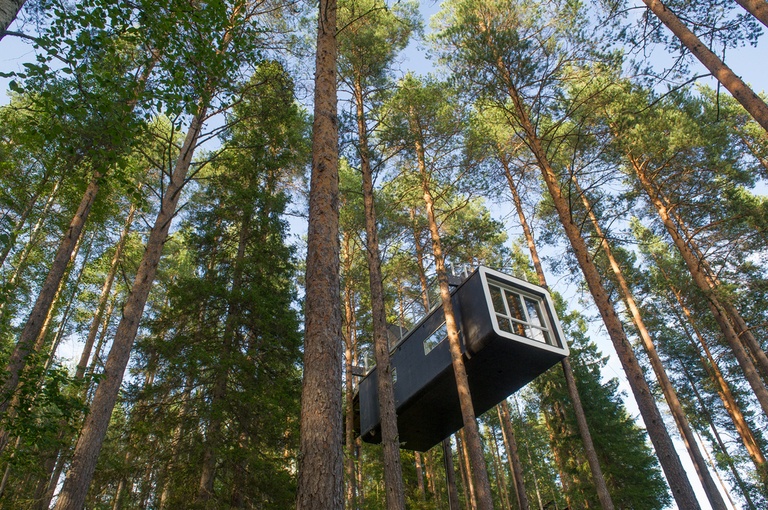 The best part of cabin-style treehouses is great flexibility in the interior space, which means it doesn't require a spectacular tree to be installed.
There are a lot of cabin-style treehouse designs depending on your skills.
What you need to ensure is the treehouse safety and providing enough playground area for children to spend them there and develop their imagination.
Mansion Treehouse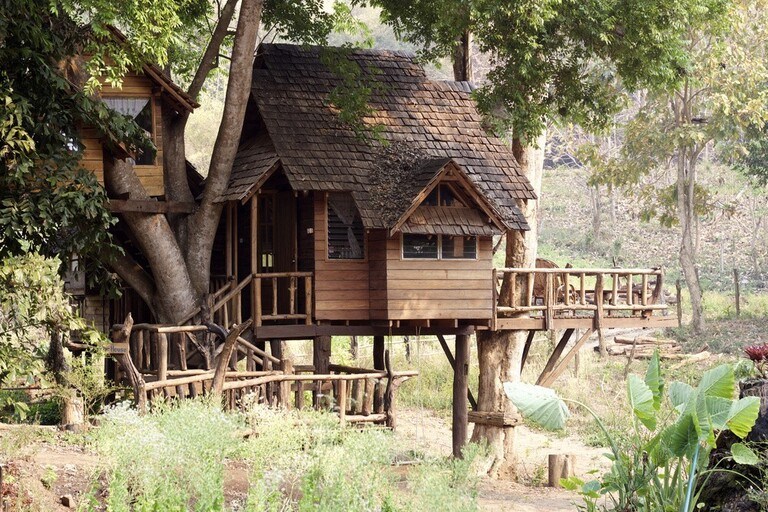 If your kids prefer a luxurious-looking treehouse and you're a skillful handyman, try this idea.
A mansion treehouse doesn't need to be built from metal; you can use wood, MDF, plastic, or any sturdy materials to make one as long as it holds the exciting and luxurious style. The size range for this treehouse idea is vast – which is a big bonus.
Choose elegant décor and consider adding a uniquely styled stair if that's also what your little kids have dreamed of.
Hut-Jungle-Style Treehouse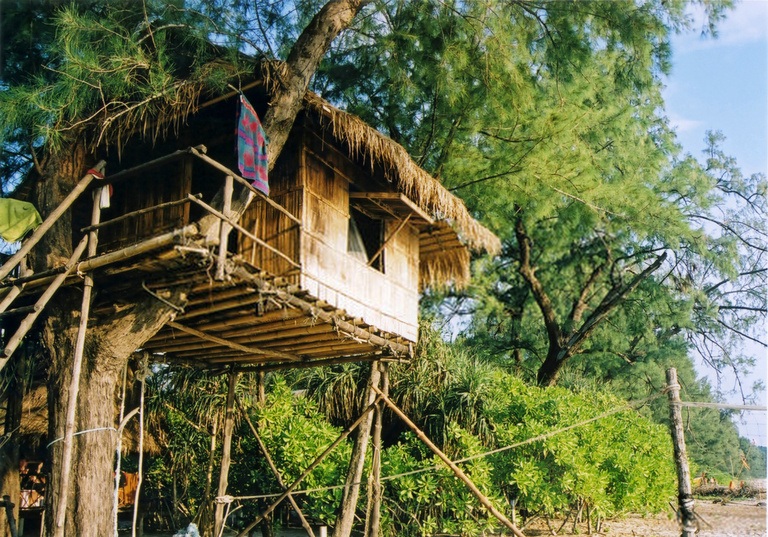 This is one of the simplest treehouse ideas in this list for non-experienced builders to consider. You can easily create one from available materials around the yard or garden. For example, straw, branches, tree logs, and cheap timber.
Otherwise, they are inexpensive to buy.
Hut-jungle-style treehouses bring not only a private and interesting playground but also a perfect hiding spot for small kids during hide-and-seek games with their friends.
Make sure to make it stable and sturdy to safely accommodate a small kid.
Kids' Playground Treehouse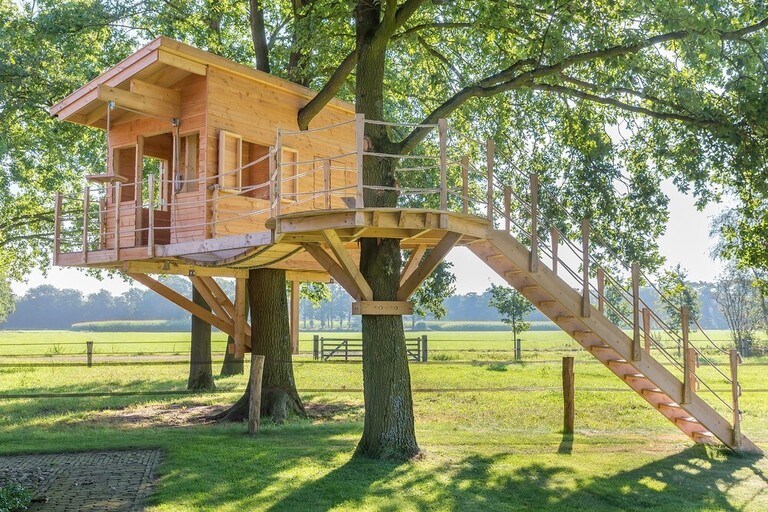 If your backyard is huge and filled with many big trees, group two or three of them to create a kid's playground treehouse – which usually is a complex consisting of a refuge, windows, stairs, a ladder, a bridge, and some slides.
This idea is perfect for kids of all ages, a kid who loves inviting friends to his/her home, or a general playground for kids and parents.
Lodge Treehouse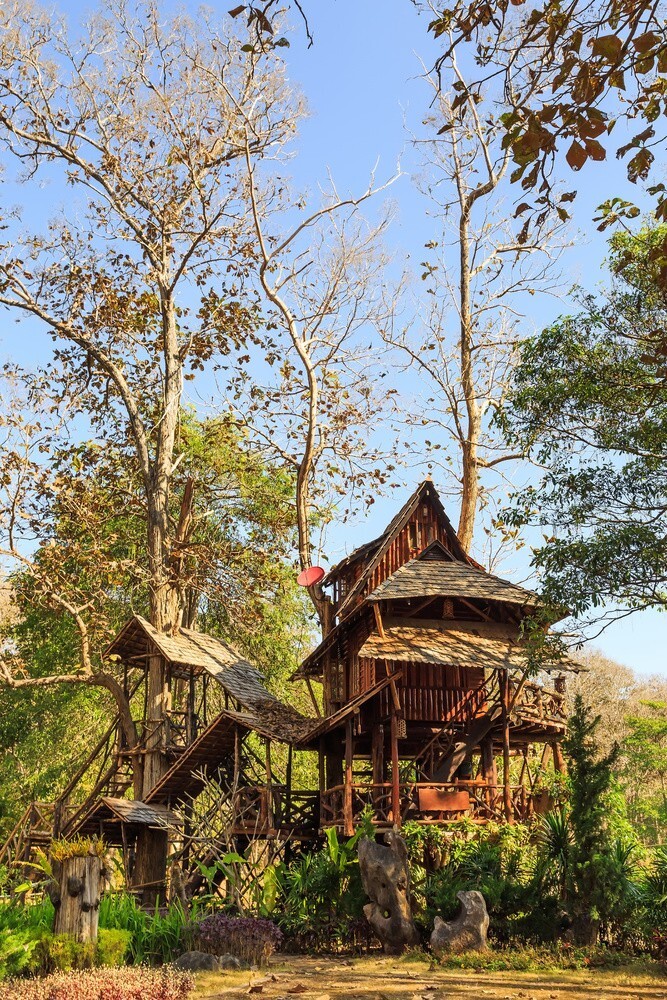 While a mini lodge treehouse is ideal for young kids, a larger-version, fully-equipped one will become a perfect go-to area for teenagers and adults to rest during weekends or have conversions.
This treehouse idea requires higher-quality materials and needs professionals to install as it will be paired up with many amenities, such as stairs, appliances, and equipment.
Some people even link it to their home as a way to expand their living space.
Treehouse With Slide

This idea is excellent for parents who want to build something simple, easy, ultra-safe but still entertaining for their young kids.
Treehouses with slides vary in designs; they can be a space station, a pirate ship, or a princess castle depending on the kid's preference.
Rudimentary Treehouse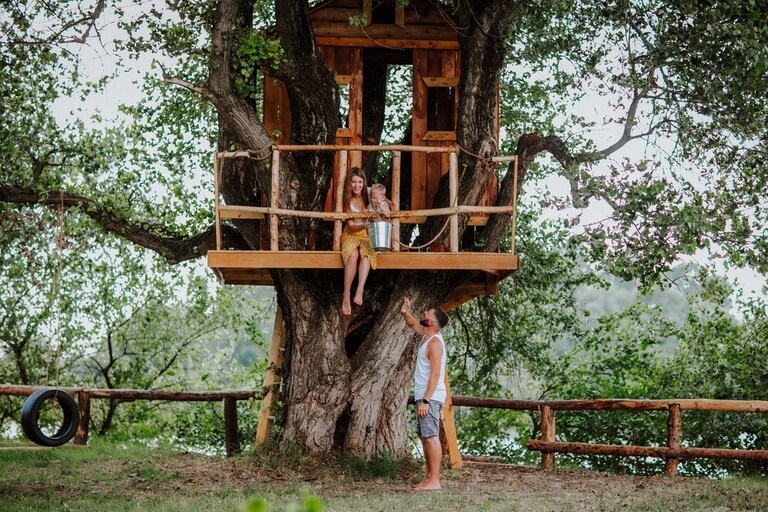 A great thing about rudimentary-style treehouses is that they require really less effort to build whereas they always steal the attention of any guests visiting your backyard.
To make a rudimentary treehouse, you just need to pick the weirdest-shaped logs, rough-looking wood, and timber planks.
Cottage-Style Mini-House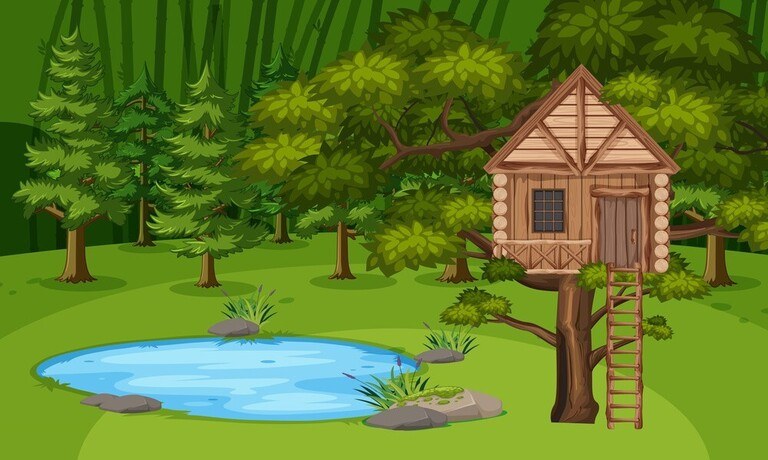 Cottage-style mini-size treehouses are perfect for a young kid to have a private, sweet, and lovely playground.
There are only two things that you need to pay attention to when building a cottage-style treehouse: visually appealing look and safety.
Pirate Ship Treehouse
If your kids love pirate movies and pirate role-playing games, what is better than making a pirate ship treehouse for them?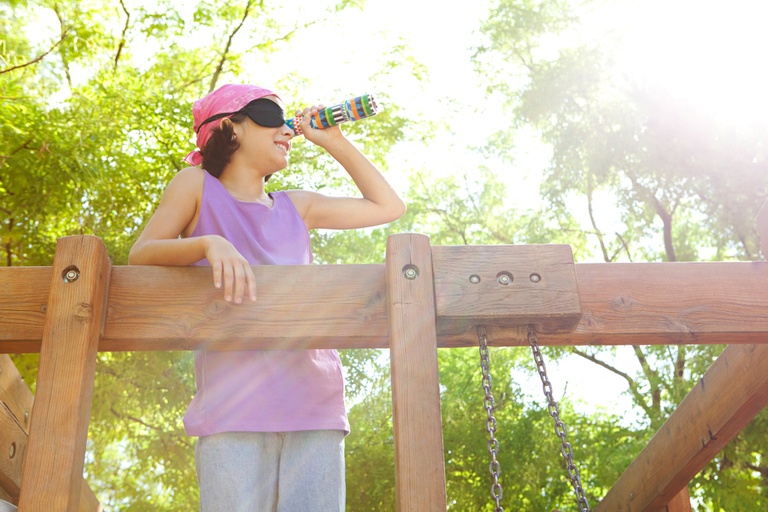 It will surely take more time, money, and effort than other options in this list but the final results won't disappoint both you and your children.
Treehouses with Net Stairs
An easy way to make a simple-looking treehouse become more interesting and inviting is to add a fun way to get up and down from it.
A treehouse with net stairs is a typical example!
Instead of climbing a rope or a ladder, this way of accessing makes it more fun and super-exciting, especially safer for young children. Besides, net stairs train your kids' balance while getting up and down.
Tipi-Type Hut Treehouse
Simple but fun – that is the concept of this treehouse idea.
It is supported by 2-4 big trees depending on the size you want to make. The highlight feature of tipi-type hut treehouses is that the roof is built seamlessly with the walls plus there's no door – which is easy to access and simple to build.
However, it is still safe and private thanks to the front and back barriers.
Conclusion
Making your own treehouse is a great project for adults to kill time during the lockdowns and for kids to feel more interested when they're forced to stay home. I hope the treehouse ideas for your backyard playhouse as listed above were helpful to you. Thanks for reading!