Unlike frozen and canned foods, locally grown produce is really a wonderful choice. You can easily buy it locally, especially if it's fresh without losing nutritional value. However, it's not popular because not many people know its benefits, how and where to buy it. You can show your support for locally grown foods by applying useful ways in this article. Besides, you will know other helpful information here:
What Locally Grown Produce Is?
Locally grown produce describes food that is grown in your geographical region. No matter where it is grown in your particular area, there are many forms. You can easily buy locally grown food in your regular grocery store, farmers markets, and community-supported agriculture programs.
What Is DTC Farming?
DTC (Direct-to-Consumer) farming means that customers will buy locally grown produce from their local farmers instead of purchasing these goods from grocery stores. Below are some advantages of DTC farming:
Buy fresh fruits and vegetables

Control over the produce price

Decrease debt levels for your local farmers

Require little machinery and land to achieve a certain level of sales

Reach high survival rate for farm operations

Increase the local economy
The Ways To Support Your Locally Grown Produce
Become A Volunteer
Many small-scale farms need volunteers who can do daily tasks in their local farms so that they can save more cost on their businesses. Thus, becoming a volunteer in your local farms means you are improving your local agriculturalist. Don't forget to wear a farmers shirt to show your spirit. Click here to buy one.
Join A Community-Supported Agriculture Program Or Community Garden
Now, industrial agriculture is more and more developed in the world, so many smallholder farmers who can't provide competitive prices like large operations must sell their lands. However, some farmers still try to resist and develop alternative production models to keep their business.
For example, the Community-supported agriculture (CSA) builds a symbiotic relationship between farmers and communities. One person will regularly purchase a share of harvest from a farm at a set price to help them generate enough income for purchasing and planting seeds, and paying workers, and paying the bills to keep their business year after year. So, supporting CSAs means you are supporting your locally grown produce.
Purchase Seasonal Vegetables And Fruits
Industrial agriculture allows you to buy your favorite fruits year-round. Although this is very convenient, it is not sustainable. Industrial agriculture will convert varied land into monoculture systems to ground a kind of fruit all year around, but this process can harm the soil, making it more difficult to grow crops as the years go on.
Instead, buying seasonal fruits, vegetables, and grains is a great way to reject the artificial model above and support your local farmers who grow seasonal fruits and vegetables. For example, colder months are the season of basil, kale, and beet greens while summer is a great time to grow tomatoes, zucchini, and peppers. Apart from supporting local farms, buying seasonal vegetables and fruits brings other advantages:
Increase Your Local Economy
Decrease the transporting miles of the produce. This can minimize the amount of rotting fruit and vegetables because they are perishable easily.
Minimize the use of pesticides and chemicals

Decrease expenses because of the supply abundance.
Choose Restaurants That Use Local Food Sources
Not all local restaurants use local food sources, so you need to determine if their ingredients are locally or not by some ways:
You can directly go to the websites of the restaurants to check the information on their online menus.
Or it's okay to call to speak with employees or chefs to learn about this information.
Choose Local Brands In Stores
First, determine your reliable local brands. When buying items from grocery stores, choose items produced from these brands.
In case your local supermarkets don't stock locally grown produce, you can ask (tell your friends, members in your family and anyone you know to ask.) Why should you do that? Most store owners want to sell in-demand products, so they will try to bring these items into their store.
Preserve Local Grown Produce
It's hard for people who live in an area with cold winters to have enough local produce during this time. Thus, preserve what you eat while they are in season by freezing, jellying, drying, canning, and pickling.
Buy In Bulk At A Time
Buying locally grown produce in bulk at a time can help farmers save more or less packaging. Buying in bulk can help you save more money instead of purchasing many times.
Tell Everyone
Tell Everyone About What
Spread the word about the markets of your local farmers or events at your local farms to your friends, members in your family, and anyone you meet. This marketing way can partly support your local farmers, especially it's cost-free but effective.
Organize Your Events Or Activities At Your Local Farms
Whether you have a team-building activity or a small picnic, a regular farm is large enough to meet your requirements. You can support the farm owners by paying for their catering services. Besides, you can hold your birthday party or next graduation in your local farms.
This place is also a good place for children. You can recommend your kid's school to make a tour at your local farm. It is a significant chance to teach them about farm life, the importance of locally grown produce to health, and animal education.
Start Your Own Garden
You can show your support to locally grown produce by starting your own garden in your outdoor space like a backyard, even a small kitchen counter. It's okay to grow simple things like herbs or peppers.
What Kinds Of Food Can You Buy Locally?
Locally grown produce include fruits, vegetables, dairy products like eggs, milk, and cheese from cows and goats, and raised meats such as chicken, lamb, beef, and pork.. You can even purchase canned foods, nut butter, and honey from local producers. Depending on each specific season with your local climate, you can buy different kinds of fruits and vegetables from local producers. Below are some items that you can buy locally:
Berries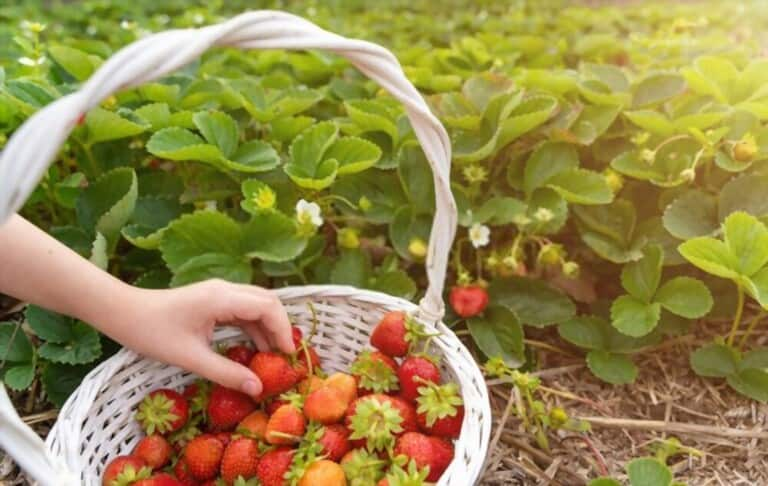 I mean many kinds of berries: strawberries, raspberries, blueberries, and more exotic berries. The fresher the berries are, the better their tastes are. In the summer, you can easily find and buy ripe berries at most farmer's markets at a decent price, even many of them can provide you with organic berries.
Corn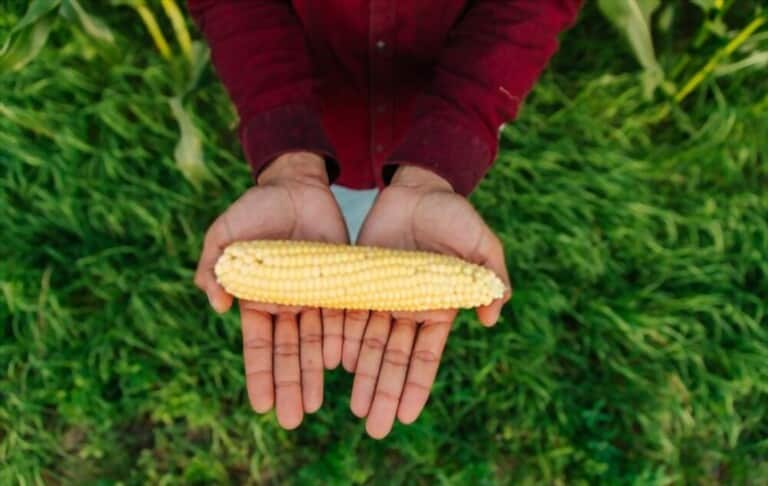 Compared to corn that is genetically modified, organic versions are better and rarer. However, the organic and non-GMO corn is more prevalent in the farmer's markets.
Grapes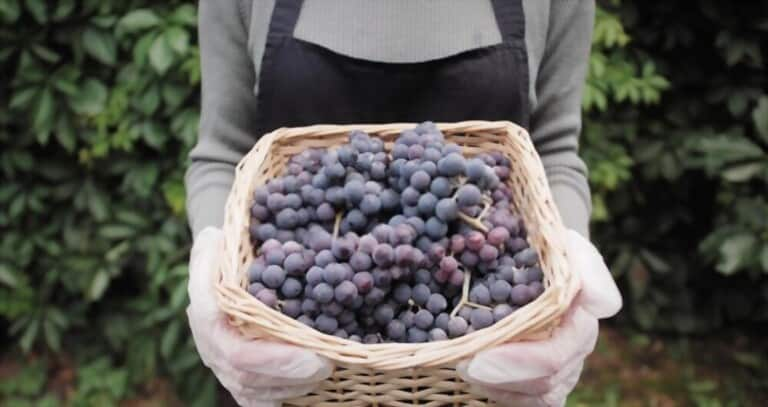 Grapes that are famous for making delicious wine and juice are strongly susceptible to "pesticide poisoning". Therefore, it's best to buy grapes from small local organic farmers. You can buy this kind of fruit in summer and fall.
Tomatoes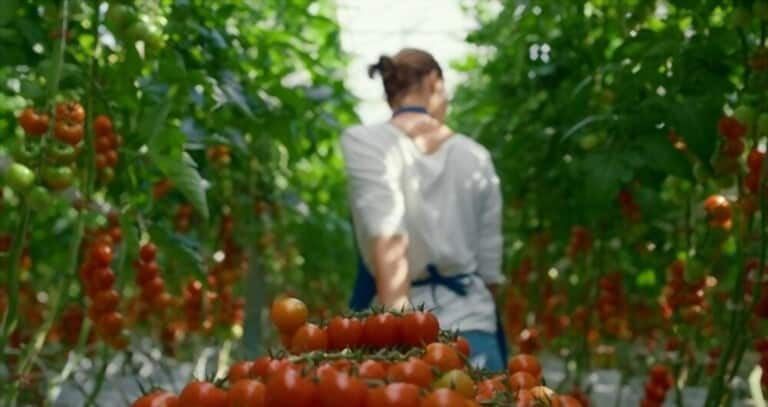 It's very common for tomatoes to be tainted with pesticides, so you should buy this kind of fruit locally. They easily grow everywhere, even in the dry desert of Las Vegas, so there are always organic tomatoes at your farmer's market.
Apples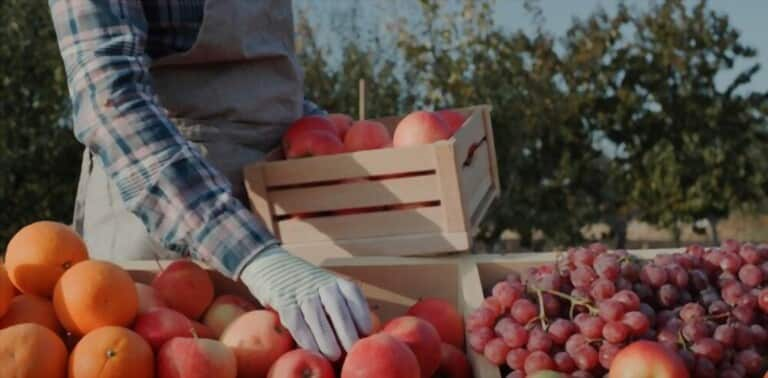 Apples usually have the problems of genetic modification and pesticide contamination, so it's best to purchase organic apples locally. You can directly connect with your local farmers to ask if their apples are organic or not.
Honey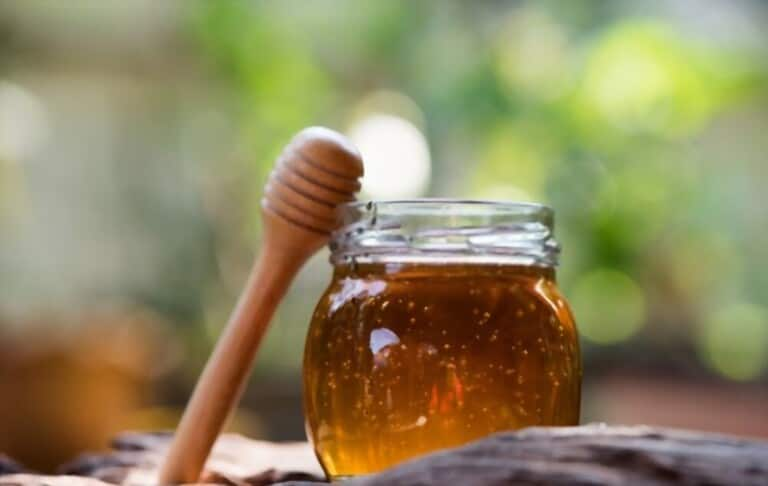 Bees pollinate by traveling from a flower to a flower, so honey is made from local flowers with local allergens with a small and harmless dose. So, consuming local honey can improve your immunity to these allergens. This helps you overcome allergy season easier.
Eggs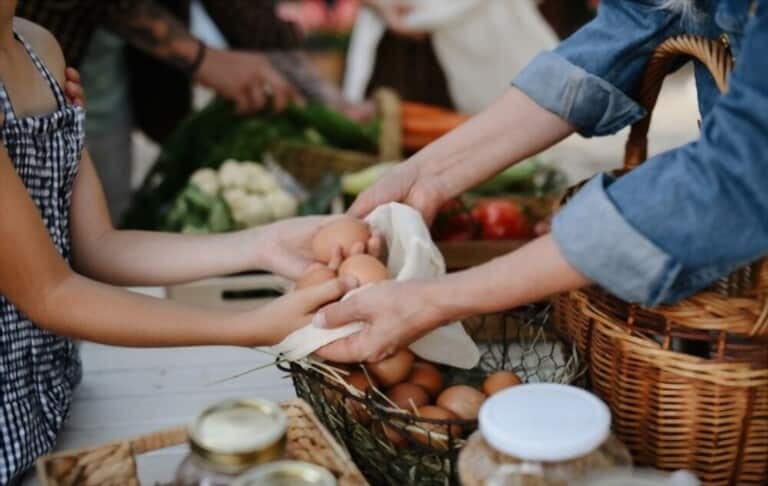 Compared to store-bought counterparts, farm-fresh eggs have a better taste and more nutritional value.
Meat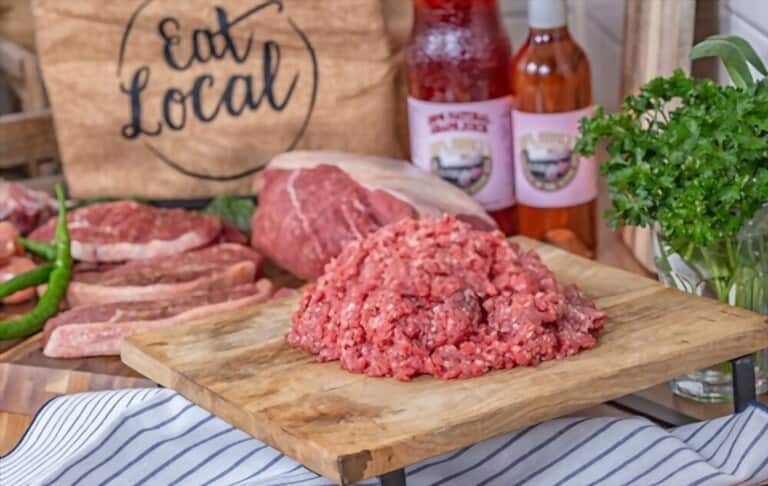 If you are worrying about the quality of industrial meat, choose what you know about it clearly. When buying local meat, you can ask the farmer about how they are grown and raised. Most local meat is free of hormones and preservatives, so eating this kind of meat is good for your health.
What Are The Health Benefits Of Locally Grown Food?
Free Of Pesticides And Preservative
If your digestion system is sensitive to hormones, preservatives, and other chemicals in food, locally grown produce is a great choice. They don't have pesticides and preservatives, so it's safe for families with seniors and young children to consume.
Most local food producers use organic and natural pest repellants which can preserve their food health. Meanwhile, if you buy foods that are produced in a large-scale agricultural operation, they are usually sprayed with many pesticides.
Locally grown foods are not sold far, so there is no need for farmers to add preservatives and other chemicals on their produce to keep them fresh for a long time. Thus, choosing locally grown produce means that you can eat fresh food without having chemical ingredients.
Provides Improved Nutrition
Unlike processed and packaged foods, having an unbalanced diet, locally grown foods can provide you with a well-balanced diet and a high level of nutrients because they are fresh without having chemicals. Local foods are fruits and vegetables that are grown within their natural season, so the flavors are fuller and the tastes are better.
What Are The Environmental Benefits Of Locally Grown Food?
Preserves Small Farm Lands
Most small farm lands are used for growing local produce. So, if you don't support locally grown food, small scale farms will be developed for industrial and commercial use. Moreover, farmland attracts biodiversity and becomes a home of many animals, birds, and insects.
Decrease Food Miles
"Food miles" describes the distance that the food is transported from where it is produced to customers. The longer the distance is, the more fossil fuels that are used, causing large carbon emissions. While imported food needs to travel for a long time, local grown food is sold nearer.
Improve Accountability
When the locally grown produce is known more and more, customers will want to understand more about how and where the produce is grown. This encourages local farmers to apply sustainable agriculture practices into the growing process. They are more accountable to safe ecological practices such as not applying pesticides, especially they implement less intensive systems compared to commercial agriculture. Many of them even try to reach an organic certification.
Preserves Genetic Diversity
If you choose framed produce that is applied to modern commercial technologies, it just uses certain genetic strands. Meanwhile, farmers with a small-scale farming business can grow a variety of food types with different colors to preserve genetic diversity. This provides customers with more options.
What Are The Economic Benefits Of Locally Grown Food?
Locally grown produce can improve your local economy as follows:
Keep money in your community
Buying locally grown food from local farmers and individuals means that money is still in your community without supporting big supermarket chains.
Let local farmers keep more profit
Directly buying food from local farmers can help them save a lot of money because they don't need to spend much money for transportation and distribution.
Create jobs
When the need for locally grown produce increases, jobs related to this kind of job also increase. Thus, many people can find a sustainable job.
Supply other local businesses
Supplying locally grown food to hospitals, schools, and restaurants can meet the requirement of many people who just want to consume local food. The more successful the restaurant is, the further the local farming economy grows.
Keep taxes down
Unlike schools and emergency services, most local farm businesses are not dependent on social services, so they can keep taxes down.
What Are The Social Benefits Of Locally Grown Food?
Support Local Farmer Families
Farming is usually a family-run business, so they try to preserve it for future generations. Buying locally grown food means that you support your local farmers to carry on their family tradition development.
Where Can You Buy Your Locally Grown Food?
The Farmers' Markets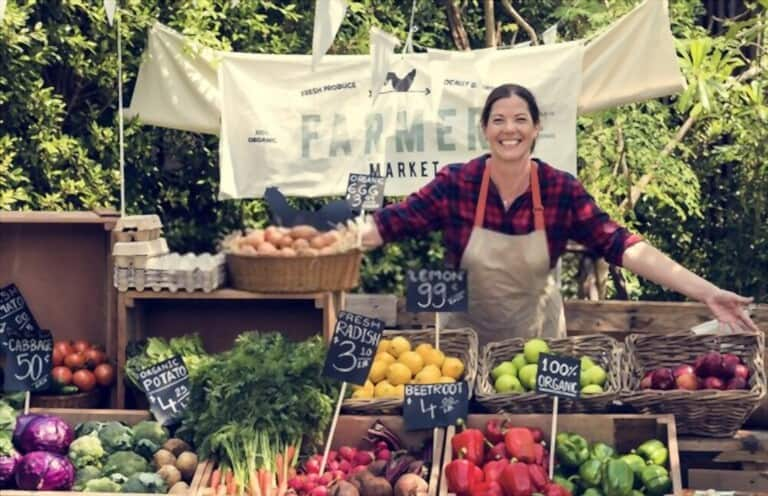 These are the most popular places for customers to find and buy locally grown produce. Depending on different communities on different seasons and climates, your local markets can take place from 1 to 2 times per week. However, some markets are open year-round.
Community Supported Agriculture programs (CSAs)
After joining these programs as a community member, you can buy a share of the harvested produce. But, it requires you to pay before harvesting. There is no need to worry about the produce quality because other members and you will receive harvested foods from one communal location.
Events
Some events allow you to pay for entering a farm to pick your own produce. Besides, you can visit on-site shops and roadside stands. Participants can join gleaning programs to pick leftover crops after harvesting.
Local grocers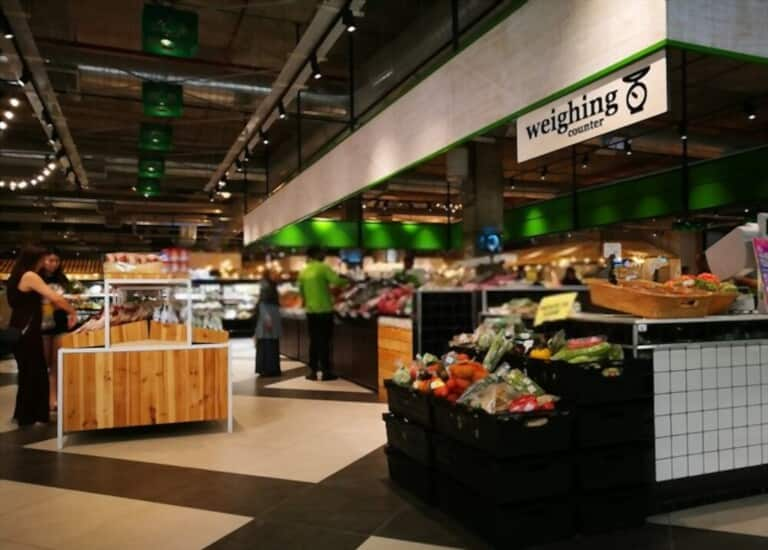 Today, many grocery businesses attempt to prioritize local produce, so most local grocers sell foods supplied by local farmers such as dairy and meats. To be sure, you can check the label of each product.
Local food delivery programs
These programs directly work with local farmers to deliver their products to customers directly. If you want to have fresh local foods to your home or work regularly, you can pay a subscription fee.
Why Should You Support Food Councils?
Food councils are a community, including many members who connect and work together to create an equitable and thriving local food system. Below are what they do to support your locally grown produce:
Support farmers
Food councils in your country have a voice and advocate in supporting services of farmers in both rural and urban areas. Thus, here are what they can do:
Their policy work focuses on advocating for state agricultural departments to offer land, loan forgiveness, tax credits, and start-up capital for farmers.
Food councils also facilitate workshops and classes to train new people, beginners, and underserved farmers in this field.
They help farmers connect with places where they want to buy locally grown food such as schools, senior centers, and nonprofits specializing in food access.
Food councils will support existing farmers markets and set up new places (if needed).
Raise food access
Food councils create pathways where allow customers and buyers to access to fresh and healthy food easier:
Many farmers markets across the Carolinas adopt Lobbied lawmakers for double SNAP benefit programs.
Directly support their local food hubs to ensure that farmers have a market for their local grown produce.
They can support staff and farmers market managers with logistics and marketing. Some of them even support and manage SNAP programs in partnership with farmers markets.
Improve community health
Food councils help the community improve their health, happiness, and wellness by letting low-income communities approach healthy foods, for example, setting up food pantries in schools and mobile markets.
Food councils have developed a Vacation Vittles program which helps farmers distribute their produce to visitors and vacationers.
They help farmers secure leases and agreements to use public spaces for creating community gardens.
The members in the food council provide their community with useful services such as opening cooking, health, and nutrition workshops, and classes and educational resources on nutrition and wellness.
The members in this council network agricultural producers, vendors and consumers together to identify their collaboration pathways.
They work with county and city leaders to use public areas for community-based food production, food education and distribution.
Why should you support your local grown food? The latter brings many benefits in different aspects, but not many people know and approach. If the ways above are too difficult for beginners, you can start the first step by growing your small garden at home.