I believe that any outdoor hanging plant, if grown in the right climate and soil type, will become effortless to maintain. For full sun locations, you won't fall short of plant choices. The ten low-maintenance outdoor hanging plants for full sun below are good examples.
String Of Pearls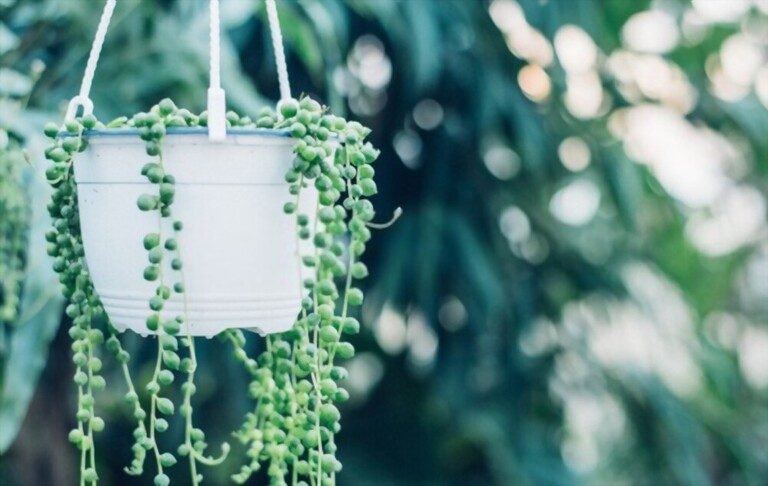 Soil: sandy soil
Hardiness zones: 9-11
String of pearls is a vining succulent featuring small pea-shaped leaves growing on trailing stems which look like strings of rubies. When planted in hanging baskets, string of pearls can reach up to 3 feet long.
In the summer, it sends out tiny, creamy-white flowers, with sweet and spicy, cinnamon scent.
Bacopa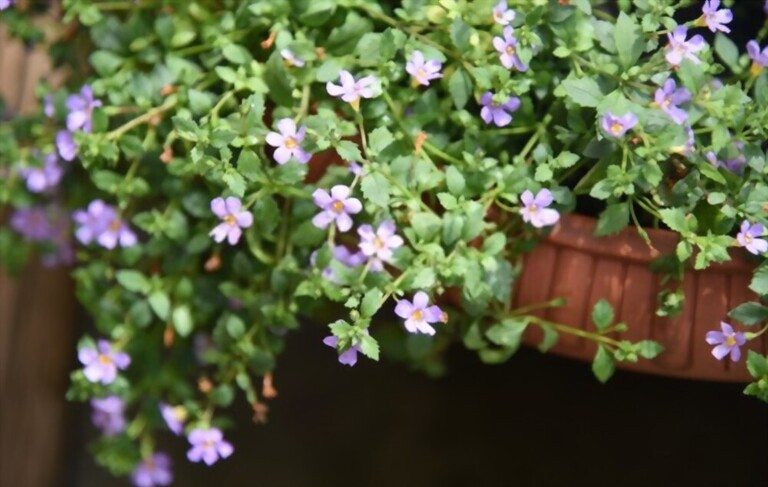 Soil: fertile, well-drained soil of sand, loam, clay, or chalk
Hardiness zones: 9-11
This is a versatile succulent, glabrous, creeping herb with edible flowers and leaves. The leaves can be pickled, added to soups, cooked as a vegetable, or eaten raw in mixed salads; they have a bitter and sweet taste.
Bacopa's beautiful flowers make it a great choice as a focal point in gardens or landscapes.
Depending on species, their flowers can be white, purple, or light bluish.
Heuchera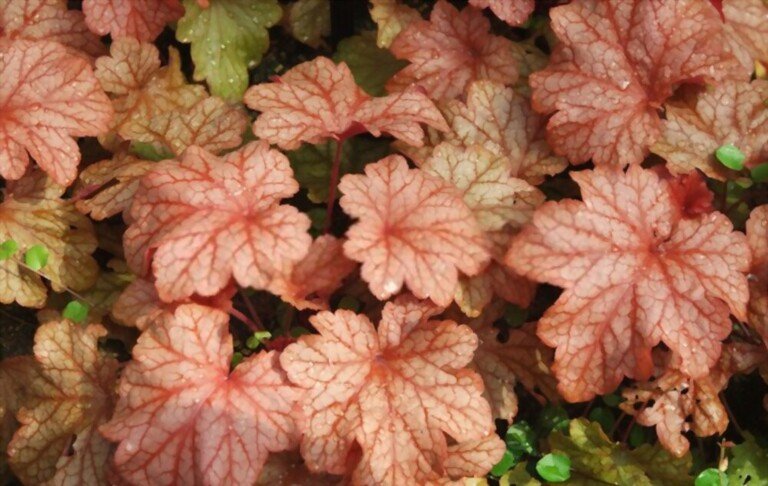 Soil: rich, well-draining, clay-tolerant soils
Hardiness zones: 4-9
Heuchera, also called alumroot or coral bells, is an evergreen perennial plant native to the woodlands of North America.
It is easily recognized for its green leaf color with white or silver interveinal patches and occasional contrasting purple veins. The leaves will turn purple or bronze hues in winter.
Heuchera is a great option as a hanging basket plant or for landscape beds. It's easy to grow and low-maintenance.
Sweet Alyssum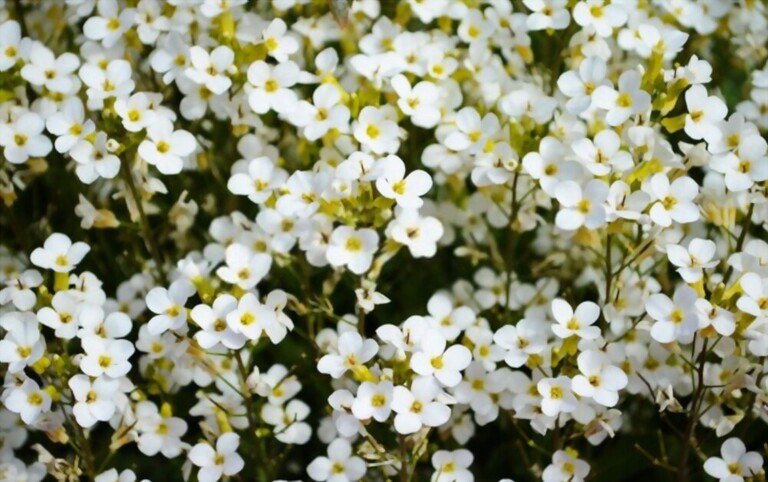 Soil: Neutral to acidic, moist but well-drained soils
Hardiness zones: 5-9
Sweet alyssum is a hardy and low-maintenance annual flower plant native to the Mediterranean region. It often grows in hanging baskets or in the ground as a border ornamental.
Sweet alyssum is known for its fragrant clusters of tiny white four-petaled flowers, standing out above the gray-green leaves.
The blooming time of sweet alyssum lingers very long, usually from summer to late fall.
Note: Sweet alyssum requires good air circulation to thrive happily.
Verbena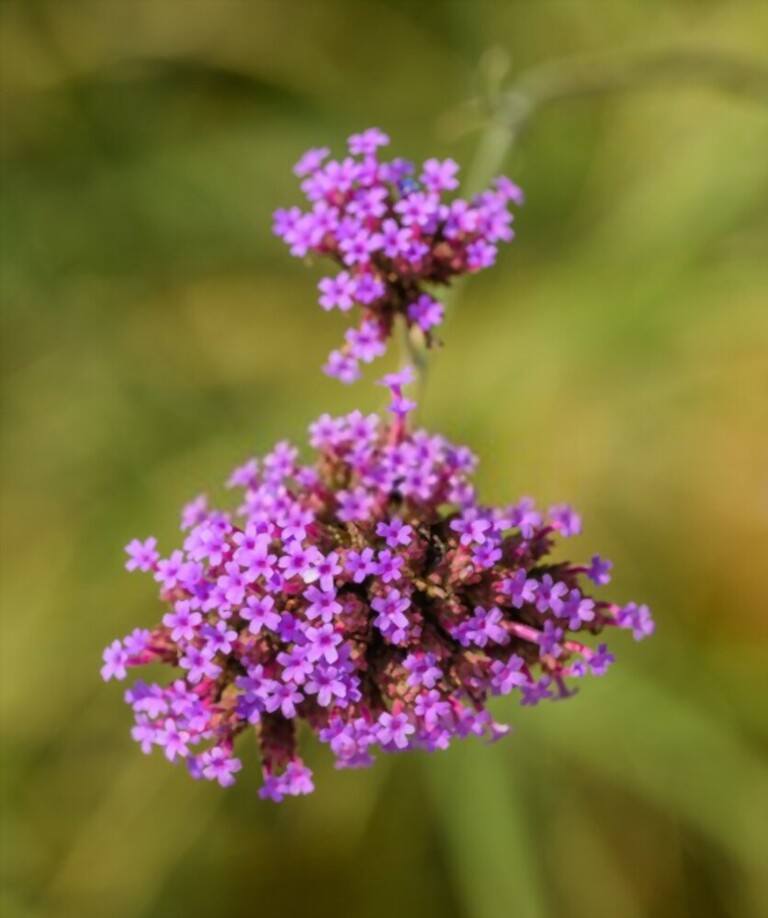 Soil: organically rich, well-drained soils
Hardiness zones: 5-8
Verbena is a perennial herb native to Asia and Europe with an emphasis on silky, pale-purple flowers and lobed, toothed leaves.
Their fragrance is very unique. A grassy note reminiscent of citronella - very fresh and relaxing - then transforming into a sweet, fruit aroma
Verbena usually serves as ornamental plants in hanging baskets or gardens. But in some cultures, it also symbolizes healing and sacredness.
Osteospermum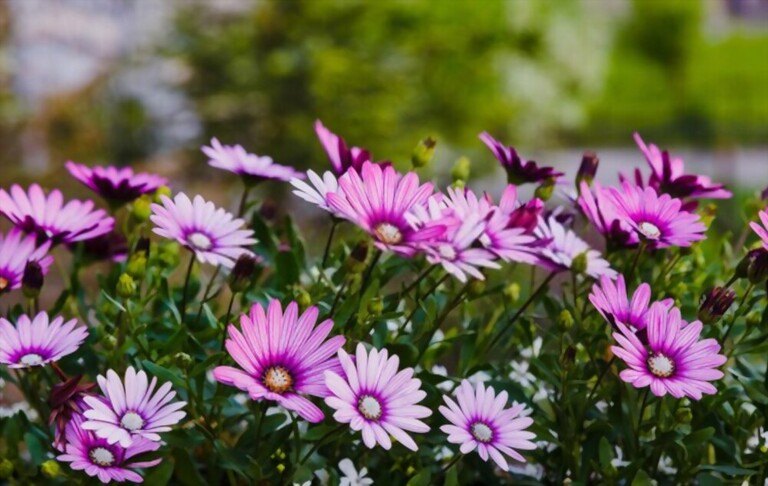 Soil: evenly moist, well-drained soils
Hardiness zones: 10-11
Osteospermum is also called blue-eyed daisy, Cape daisy, or African daisy.
This sun-loving annual plant stands out for its gorgeous, big flowers colored from deep purple to white. The petals are varied in shapes, from spoon-shaped, to fringed, to double.
It blooms best in full sun and well-drained soil.
Fun fact: Osteospermum is considered as a symbol of departure or a goodbye.
Petunias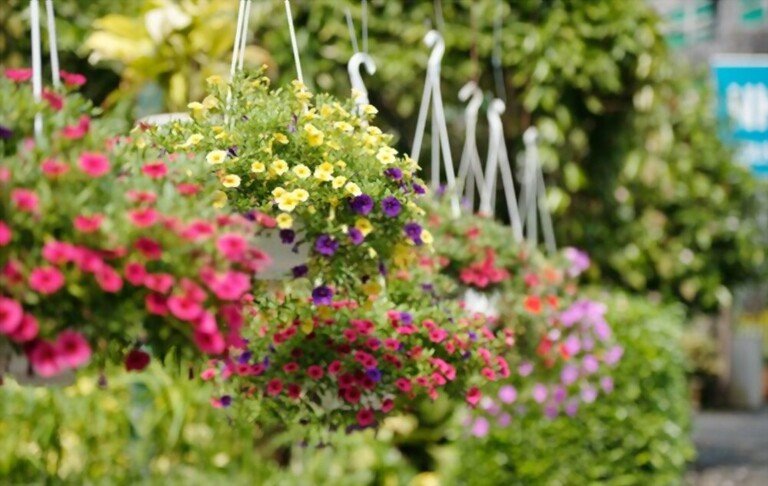 Soil: fertile soil
Hardiness zones: 9-11
Petunia is considered one of the renowned flowering annual herbs for its distinctive funnel-shaped flowers with a lovely scent. The plant blooms in the spring when exposed to full sun and watered reasonably.
This is one of the lowest-maintenance plants I found. It just requires watering once per week.
Petunia represents calmness, hope, and desire.
Geranium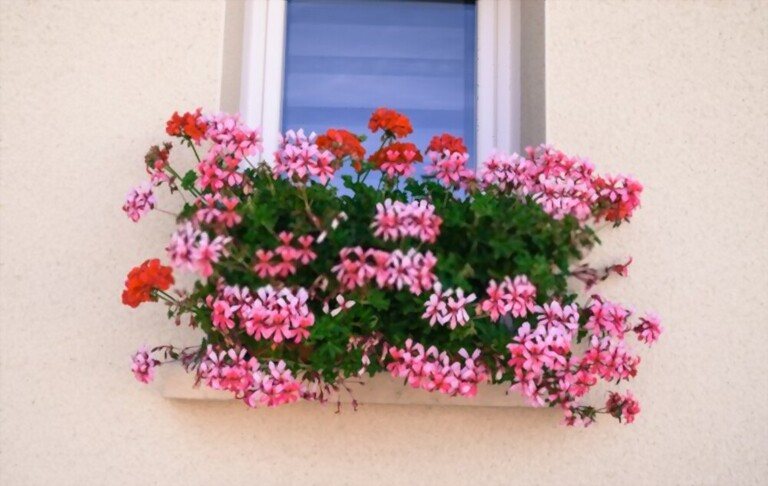 Soil: organically rich, loose soils
Hardiness zones: 10-11
Geraniums may be annual or perennial plants depending on the type. In general, they do well in full sun to partial shade conditions, tolerate drought, and resist deer.
It blooms in early spring; the flowers are borne in terminal clusters and come in different colors such as violet, deep red, shades of pinks, and white. Geraniums also vary in growth forms, flower sizes and shapes, and leaf shapes.
Mandevilla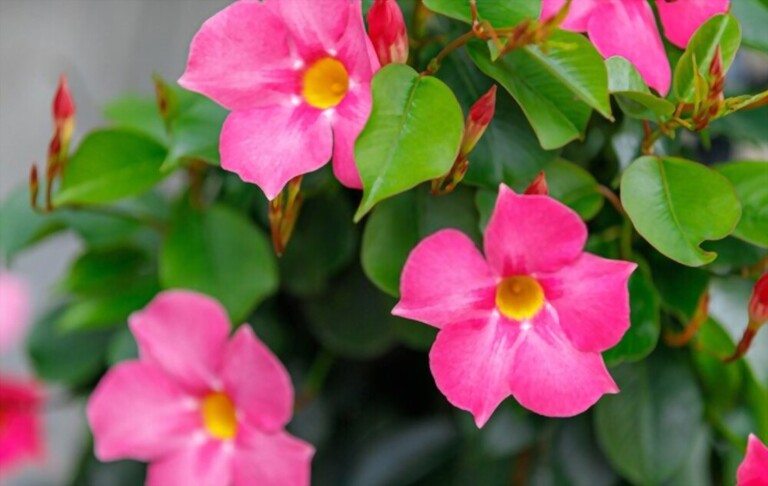 Soil: sandy, well-draining soils
Hardiness zones: 9-11
Mandevilla, or rocktrumpet, thrives best in semi-tropical or tropical climates and in 12-14" hanging baskets with drainage holes.
The plant grows fast in hot weather and is easy to maintain; all you need to do is fertilize it once every two weeks and water it once or twice weekly.
If properly cared for, Mandevilla can reach up to 10' long.
Mandevilla has big, bright flowers that come in different colors: white, pink and red. This is a great choice for those who want to add a lush tropical vibe to their outdoor space.
Dichondra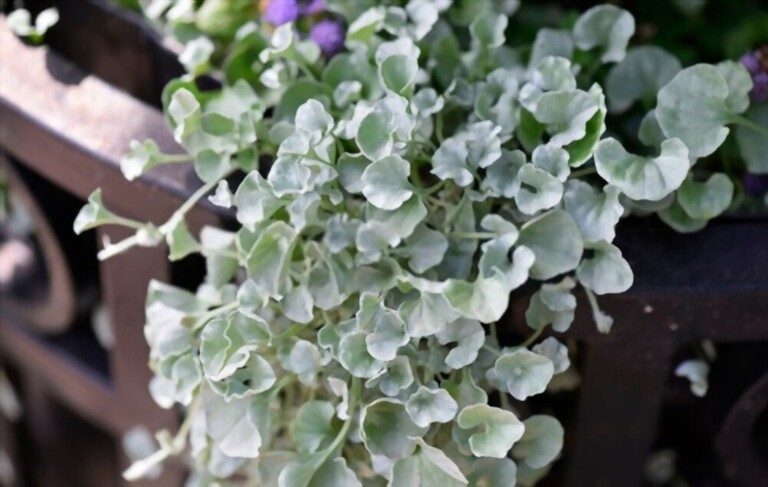 Soil: loose, clod-free, and well-drained soils
Hardiness zones: 7-11
Dichondra is a low-growing perennial plant native to desert regions in northern Mexico, southeastern Arizona, New Mexico, and western Texas.
It features circular bright green leaves, has upright, creeping habits, and usually grows densely.
Some common names are silver nickel vine, Lawn-leaf, and silver ponysfoot.
Conclusion
Above are ten best low-maintenance outdoor hanging plants for full sun. To find the right ones for your space, it's important to determine the hanging location, type of climate, and your preference. Try putting together a few species for a colorful and interesting overall look, if you like.
I hope this article was helpful to you. Thanks for reading!