Setting up artificial grass near trees and other fixed objects around the yard is deemed a challenging task but that doesn't mean it is impossible for one to do it on their own at home.
With some practice and knowledge, I'm quite sure that it will be a lot quicker and easier, especially after you read these tips for installing artificial grass near trees. Now, scroll down to read more!
Research Your Trees Before Installing Artificial Grass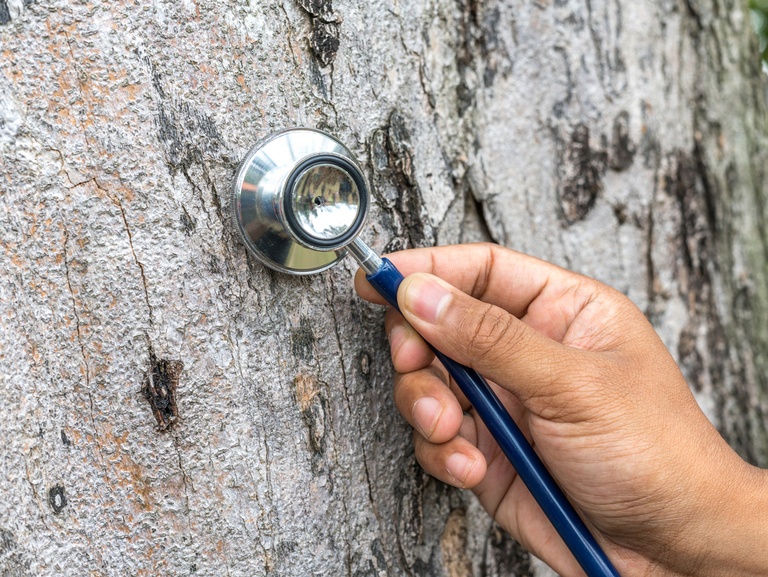 Installing artificial grass means you are going to excavate a sub-base at least 3-4" from the surface of your yard to replace the topsoil without affecting the already-existing things that you can't move, such as playground sets, fountains, and trees.
With trees, you will need to know how their root system is growing below the surface.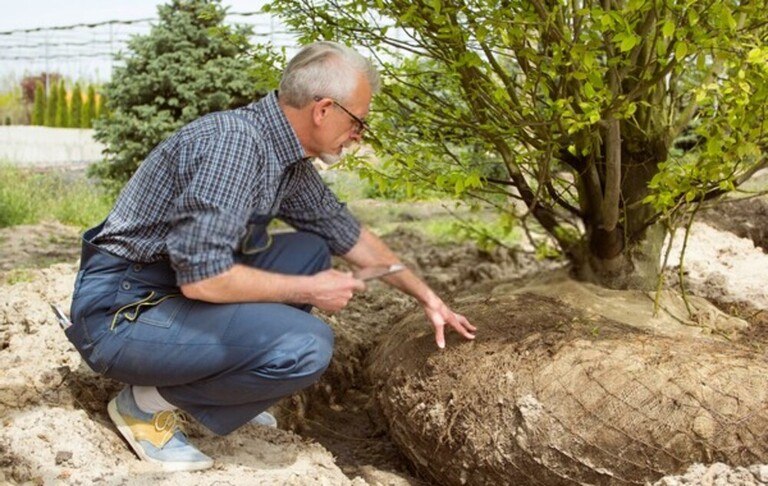 While roots of most trees have a tendency to grow downwards firmly underground for moisture and nutrients, some tree species have roots protruding out of the topsoil.
Determining how much the root is exposed helps you easily find out the right way to install artificial grass.
Of course, with tree roots that are both below and above the ground, it will be a bit more challenging to deal with.
Consider Creating A Tree Well
Creating a tree well around the tree base is one of the most effective ways to both simplify the standard artificial grass installation and protect your tree health.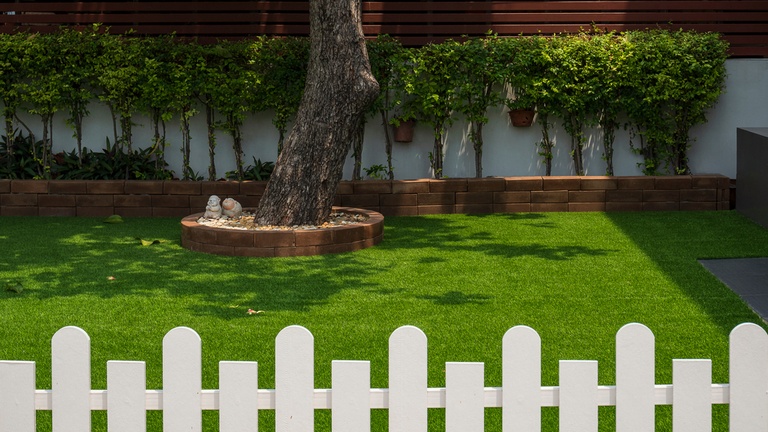 It allows your trees to receive enough moisture and nutrients – which is especially suitable for species with rhizomatic roots or with roots spreading horizontally.
Compared to cutting the artificial grass around any protruding roots, creating tree wells bring a consistent and clean-cut look to your yard.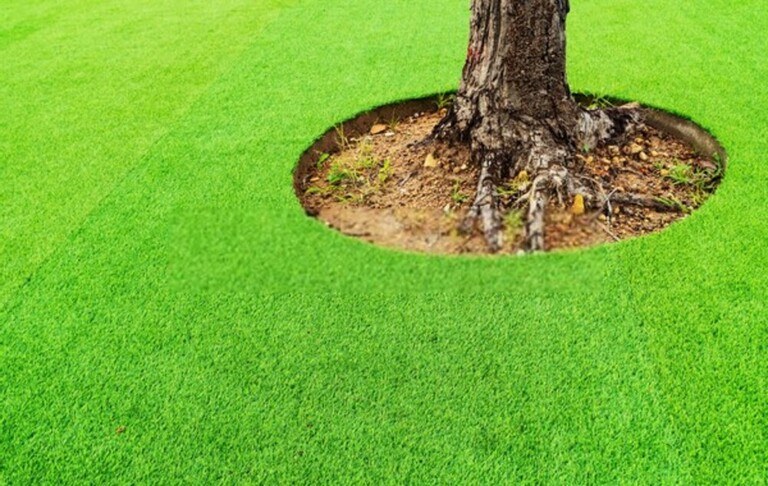 Besides, this project is very quick and simple to carry out:
Before excavating the topsoil, mark the tree well out.
Choose the right materials for the well (the most popular options are bender boards or curved lawn edging boards)
Make a circular wall around the base of your trees to separate the exposing root part from artificial grass.
Fill any of the gaps with gravel or loose soil.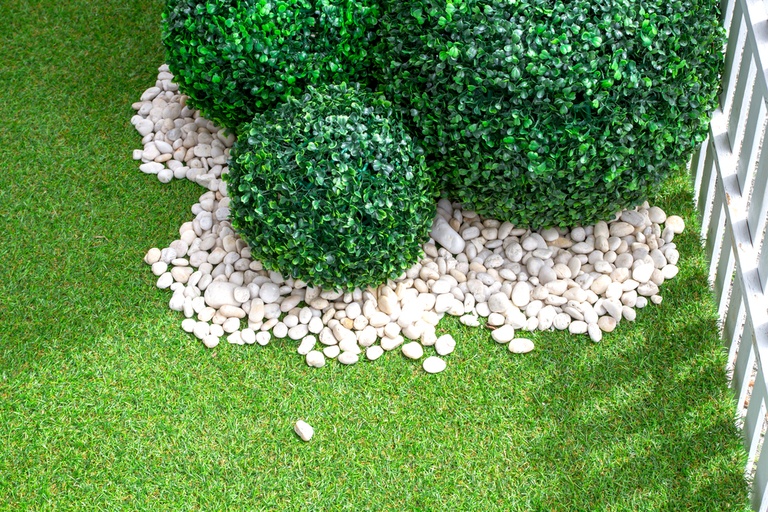 This idea also works well on other , hedges, and bushes.
Create A Zig-Zag Timber Edge Along With The Root Courses
Another brilliant tip to installing artificial grass near trees with protruding roots is to create a zig-zag timber edge along with their root courses.
Important note: You should leave a reasonable gap between the timber edge and each root course to avoid damaging the tree. You don't want your trees to die, do you?
Last up, use loose soil to fill the exposed roots to prevent risks of tripping.
Choose High-Quality Artificial Turf
Since regular artificial grass is specifically designed for preventing weeds and for athletic fields - where there is no organism or tree root in the soil, it is commonly non-porous.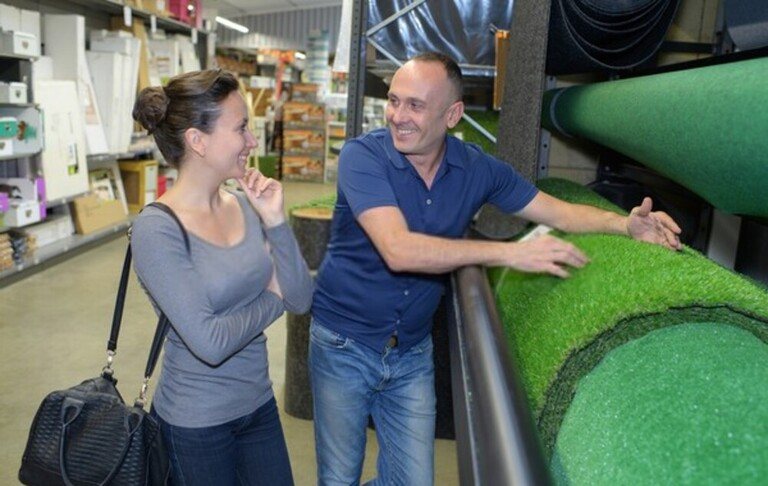 If you apply this kind of turf on your lawn and around trees, it might affect the tree roots. In the worst cases, your trees would die. To avoid that, choose porous, high-quality turf – which allows oxygen and water to go through.
The upfront cost of high-quality artificial grass might be more expensive than lower-end kinds but in the long run, it requires fewer replacing times to hence save your money more.
Tips For A Clean-Cut Line On The Artificial Grass
There are two pro tips to make a clean cut line on the artificial grass:
1) Always allow at least 4" in the outside of the measurement when cutting the artificial grass just in case that you want to adjust the tree well or other sudden issues.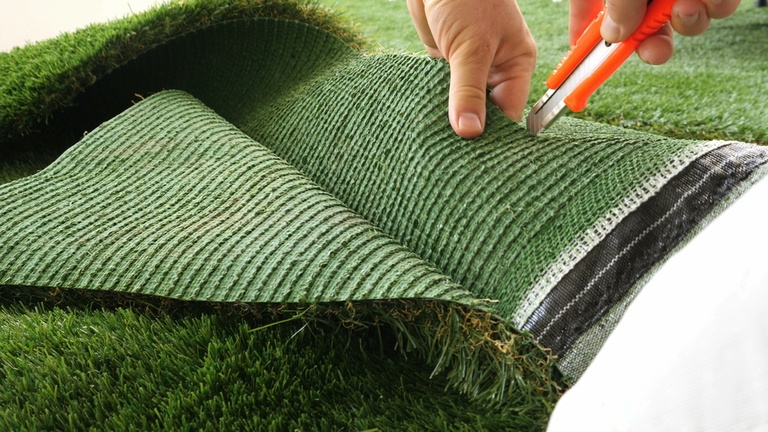 2) Remember to turn the turf back up and cut in between the stitching lines.
Do not cut the artificial grass across its backing, otherwise, the final result will be a messy seam, shading-off, or falling grass blades.
Things To Do With Shock Pads Or Lawn Pads Under The Grass
With these two objects, you should do the same prior to setting up artificial grass. To keep them secure in place, consider using staples.
Make sure these pads aren't overlapped.
Conclusion
Above are just the basic tips for installing artificial grass near trees but I hope they were helpful to you. If you have any inquiries or want more intensive advice, please don't hesitate to let me know through the comment section. Thanks for reading!