"How can I enjoy my deck in the winter?"
Seem to be a simple question but hard in reality, right? In such cases, it is useful to listen to an expert, and with over 6 years in this field, I am confident to be here and give you some precious suggestions as well as advice.
Below are some common, easy-to-do, and budget-friendly options to give you more relaxing moments on your outdoor deck. Read on!
Take a Hot Tub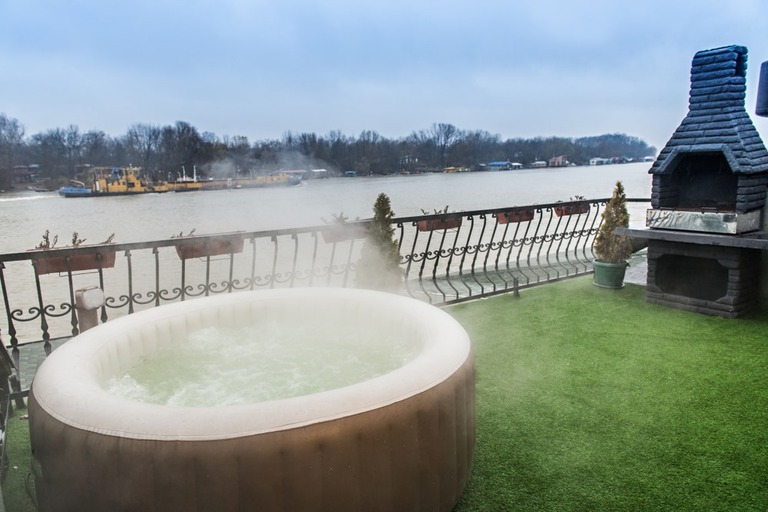 For the question "how can I enjoy my deck in the winter?", I think there's no better answer than slipping into some hot water, even if it's freezing outside. And, a deck is the best place to set up your hot tub and make it feel more like you are at a mountain spa.
Taking a hot tube gives you lots of benefits.
Aside from the refreshing experience of enjoying bubbling, warm water, it is known to lower blood sugar levels, mimicking the effect of insulin, which is helpful for type 2 diabetes.
30 minutes a day is enough to stimulate this effect while making your winter deck one of your favorite places to be.
Between a solid and static hot tub and an inflatable one, I highly recommend the second option for some good reasons:
Much more inexpensive – perfect for tight-budget people
Superior mobility and flexibility – great for both indoor and outdoor use, for temporary usage, or for narrow deck
More comfortable – give you soft, flexible liner to absorb more into and get more relaxation
Lots of variations to choose from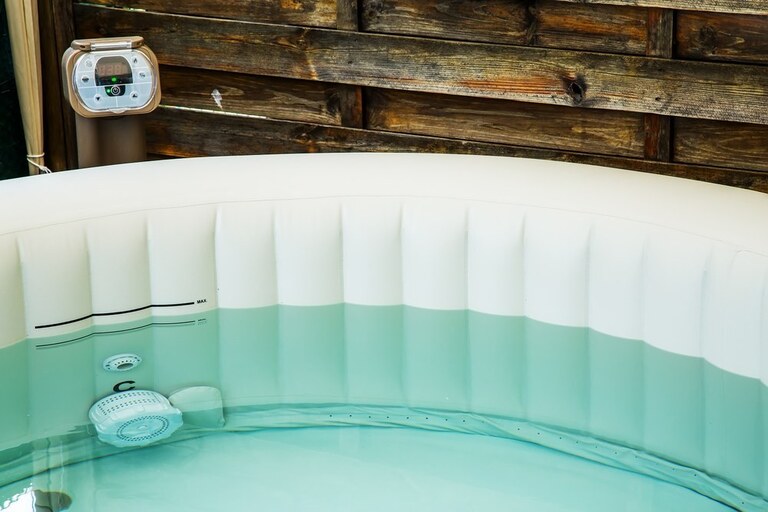 When it comes to the installation, there's just one thing to consider is to make sure the deck area where you intend to place your hot tub on is strong enough to handle not just the water-filled load but also your weight.
Grill Outside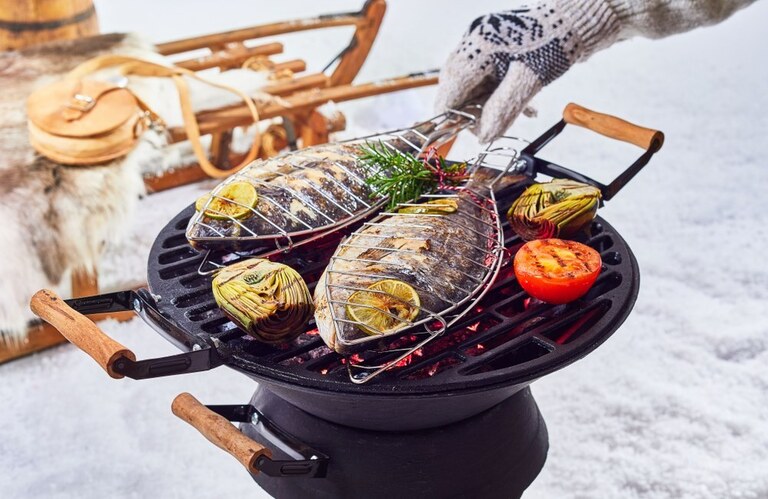 Another great idea to enjoy your deck during cold weather is grilling and trying hot delicious foods together.
As long as you follow strictly the necessary safety precautions, I find nothing to not try this interesting activity in your backyard deck. Those safety precautions are:
Place the grill 10 feet (at least) away from your house, according to the US Consumer Protect Safety Commission.
Never use your snow gloves as BBQ gloves. Instead, choose the heat-resistant ones
Make sure to not let any tassels or scarfs contact with the grill while using it to prevent unwanted fires and burnt
Regardless, remember that grilling time and heat will be significantly affected by cold temperatures. That means it will take longer time and extra fuel to reach the desired heat so, equipping yourself with a meat thermometer and more fuel than usual is necessary.
It's also advised closing the grill lid as much as possible. Above all, be patient!
Canopy Awnings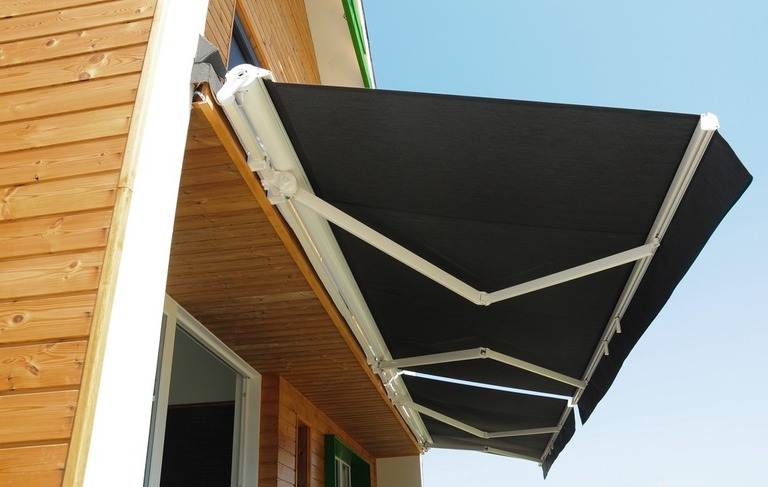 While canopy awnings play a great role in providing shade to your deck during the summer, it comes in handy to prevent you and your elements from snow and rain.
Also, it keeps the heat in if there is a heat source already on your deck.
Canopy awnings are various in price points, depending on your budget. If yours is a bit loose, I suggest trying the retractable type as it is sturdier and more durable. Just one thing to take note is some high-end models might require professional setup.
For those who are in a tight budget, don't worry to choose a more inexpensive one because most awnings hold up well against hail, snow, rain, and light wind.
When choosing one, make sure it is easy and quick to remove the canopy on those strongly windy days.
To install it, you will need some bolts to attach a sturdy frame to your deck, then, add the canopy.
Lighting
This is not to make your outdoor deck warmer during the winter, but to create cozier ambiance and more inviting atmosphere.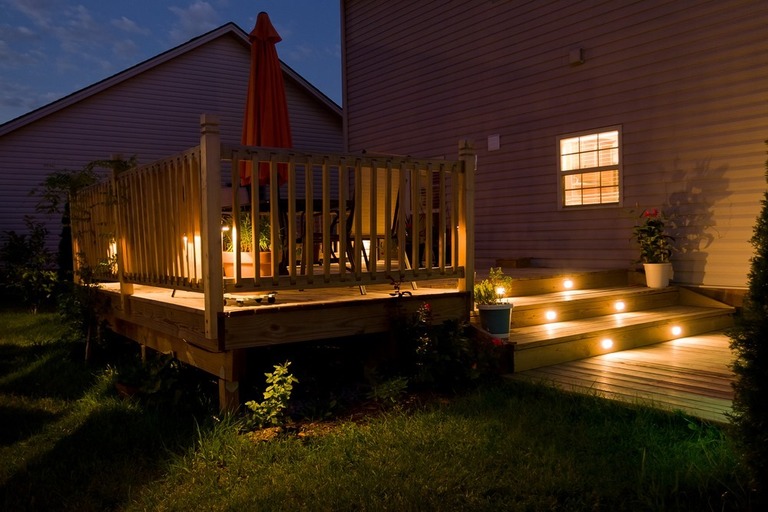 Choosing lights for winter use is a bit different. Make sure their temperature ranges are suitable for the cold weather in your living area. Don't worry, this indicator is commonly listed in the product description.
The best locations to install your deck lights are under awnings, the underside of railings and seating, or hang some light strings around the space.
In terms of the light glow, I suggest choosing either white warm or yellow for soft, gentle lighting color, making you feel more relaxed. Or, there are many smart lightbulbs, the colors of which are adjustable through a smartphone app.
Smoking Foods
Smoking foods outside in the winter is both a joy and a challenge to most people.
The challenge is to retain the desired heat and the joy is if you succeed in maintaining the right temp, your smoked foods are extremely top-notch. Combined with the cold weather conditions and friend/family member gathering atmosphere, I bet nothing is happier than such moments.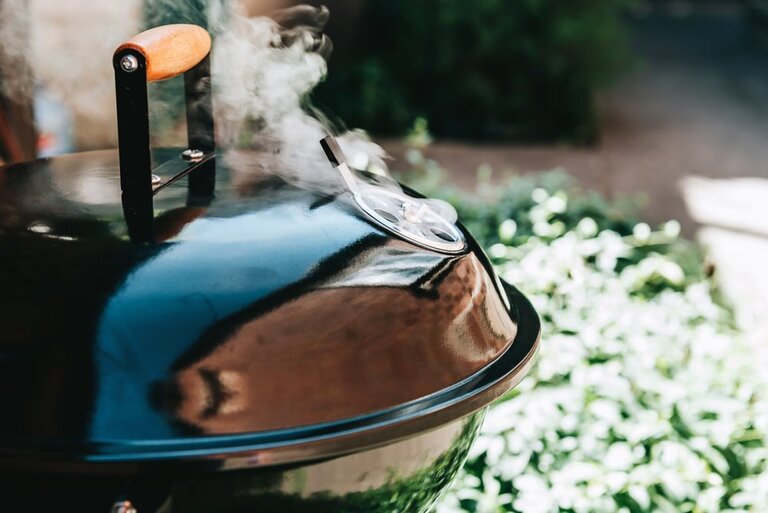 Choosing the right smoker is important in this case. It should be high-quality with thick walls for good insulation, and from that point, I find either a pellet or ceramic smoke is the best choice.
When it comes to finding the right place for your smoker, make sure this area is well-protected against winds, rain, and falling snow.
You can add some extra insulation to this device by using aluminum foil insulation, furnace insulation, or a special welding blanket.
Finally, just like when you use a grill, make sure to keep the smoker lid closed as much as possible.
Conclusion
Above, I've just shared all of the practical and interesting ideas to help you enjoy your deck more in the winter. But notice that they're just for reference, you need to consider the characteristics of your deck, your preference, and budget to pick the right ones.
I hope with this post, you'll get a more joyful winter outdoors with your friends and family. Thanks for reading!