Whether you want to boost your property's value or add a bit of shade to the outdoor space, the best trees for front yard which can grow at up to 25-30 feet tall with minimal care will be your garden buddy.
Mimosa (Albizia Julibrissin)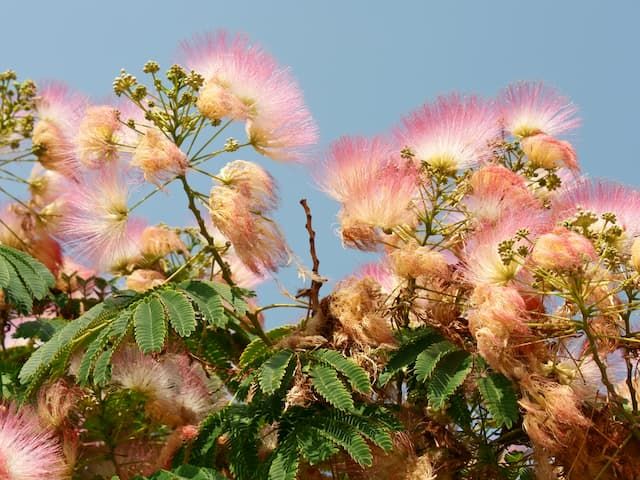 Native to China, the mimosa tree in your front yard is a visual stunner. Its tropical appearance with these unique fragrant feathery pink flowers gives this ornamental plant a different name, the silk tree.
As mimosa is a fast-growing tree, it can shade a large area in the landscape which suppresses sun-loving plants, shrubs, flowers, and grasses in such a short period.
Another great feature helps mimosa work as a patio or terrace tree is an abundance of huge fern-like leaves allowing for a light-filtering effect.
Plant care: Plant your mimosa in a dry & hot location, with drainage-free soil.
Autumn Brilliance Serviceberry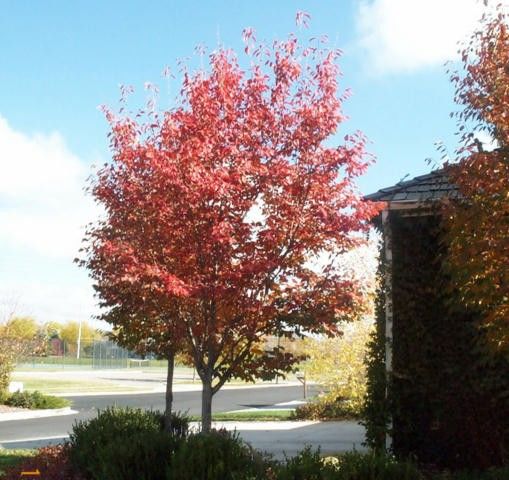 Via thetreefarm.com
Appearing in the form of small multi- or single-stemmed tree or large shrubs, Autumn Brilliance Serviceberry is one of the most popular plants in gardens throughout the South and Midwest.
When fully maturing, it can reach the height of up to 25 feet.
The showy white flowers, purplish edible tart-like fruits, copper-red fall leaves, and smooth gray bark make this upright, heavily branched tree an ideal accent plant for any small yards.
Care advice: Get rid of crossing branches and guide your tree shape by pruning in late winter if needed. In the first year, make sure that soil is consistently damp. And when the weather gets hotter and drier, water deeply once every 7 days.
Crape myrtles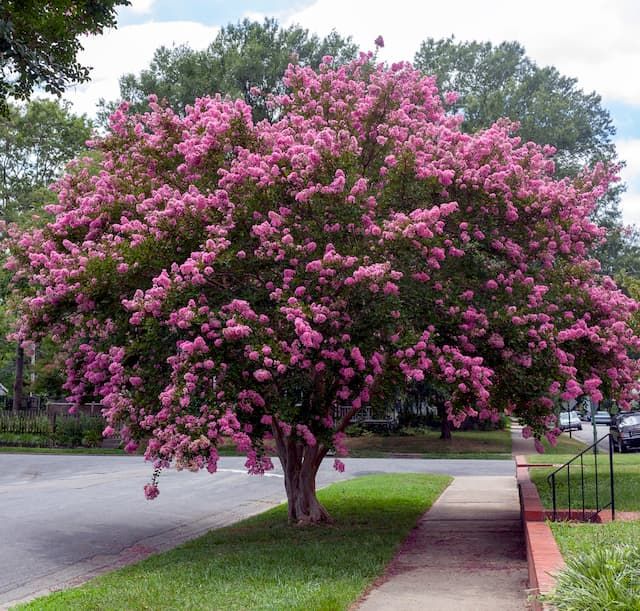 Since this member of the family Lythraceae comes in all possible shapes and size, make sure to pick the right one for your specific needs.
The knee-high shrubby dwarf selections look most gorgeous in incorporated into perennial beds or large pots/containers. The larger types in towering tree forms need enough room to reach 25 to 30 ft. tall without intruding on buildings, electricity lines, or walkways.
And for your garden home or a small courtyard, there is no better choice than a medium-sized tree which can reach from 12 to 15 feet and reward you with prolific flower blooms throughout the hot humid summer and showy autumn foliage.
Camellia Japonica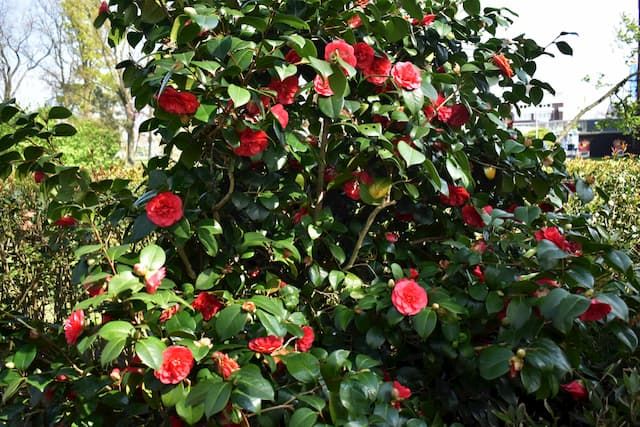 A low-maintenance and easy-to-prune small tree like the camellia should be your all-time favorite option for a compact yard. This shade-loving evergreen tree or shrub is regarded as the queen of all winter flowers due to its spellbinding bright flowers. And as a double-bloomer, it can bring an exquisite color to your landscapes all year round.
Japonicas and sasanquas are the two hybrids commonly used in landscapes. The former grows well in shade and seems to bloom at the end of the season while the latter can endure more sunlight and bloom much earlier.
Ribbon-Leaf Japanese Maple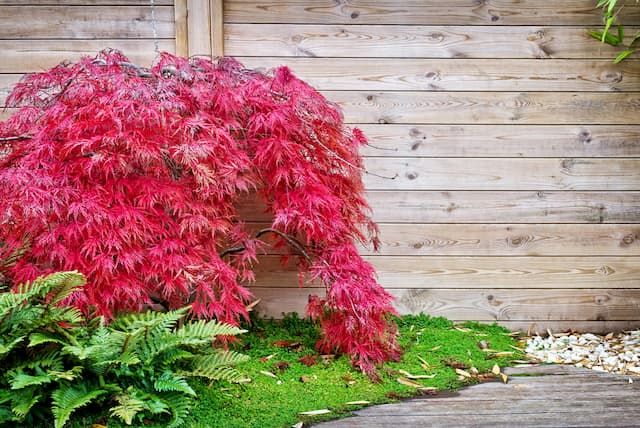 Maxing out at 10-12 feet tall and 5 feet wide, Ribbon-Leaf Japanese Maple or Acer palmatum 'Atrolineare' is among the most remarkable small trees for limited space.
Its elegant upright branched, compact form contrasting with the leaves' descending form makes it a perfect specimen for any urban Asian-themed yards, woodland gardens, or pots/containers/planters. Also, it can be turned into a bonsai.
This outstanding variety can tolerate different weather conditions from partial shade to full sun better than other hybrids in its diverse group and can be easily grown in well-drained and organically rich soils with just little basic care.
Japanese Stewartia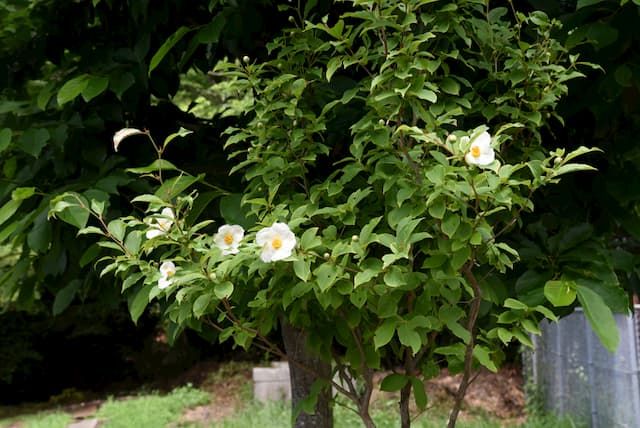 Need a tree a bit shorter but looks splendid for more than a single moment? Then this camellia relative small-ish to medium-sized tree which is slow growing but can provide canopy coverage as high as over 20 feet tall is your best bet.
Expect to contemplate lovely white flowers open within a few weeks in mid-summer, winter interest, and rich, green foliage 365 days a year!
Plant advice: Spare this ornamental specimen tree a spot in a partially shaded location.
Crabapple (Malus)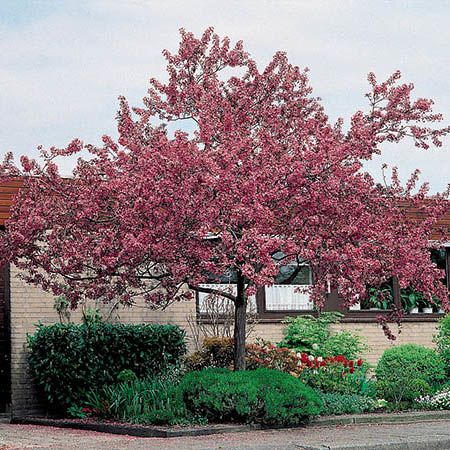 Even the tiniest of courtyards can accommodate the dwarf varieties of crabapple trees. On average, these ornamental trees stop growing at less than 15 ft. tall and spreading at 10-15 feet wide.
They offer excellent spring interest with a month of deep-pink or white flowers that draw native pollinators for apple trees, including the honeybee.
For a year-round show, following the flowers are dangling clusters of small, purplish fruits that attract wild birds to your yard.
Pineapple Guava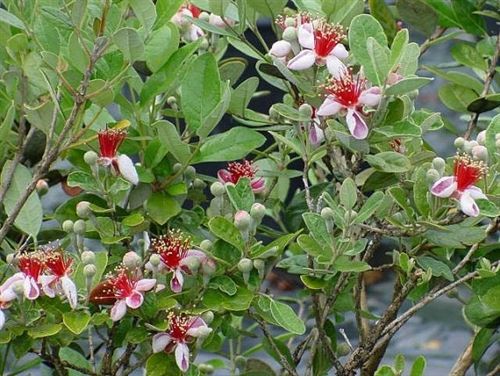 One of the easiest-to-grow tropical fruits, pineapple guava makes a great addition to any small front yards in a subtropical or cold temperate climate.
We love it because not only does it stop growing at 12-15 feet tall but it also needs no second tree for pollination.
Interest for many landscape uses is spotted 365 days a year. From striking gray-green leaves to showy blooms of edible flowers in spring and fragrant sweet reddish fruits in late summer or autumn, these evergreen shrubs or trees are grown for curb appeal.
Pawpaw (Asimina Triloba)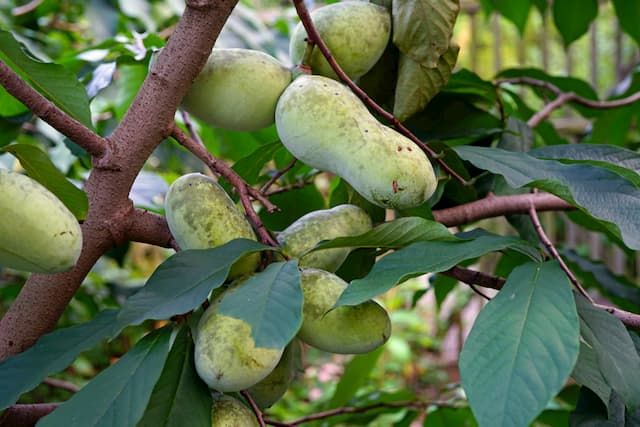 Though pawpaw needs a second tree for cross-pollination, to yield a good harvest, these smallish trees, on average, reach the height of from 15 to 30 feet.
This native to North America thrives in fertile, moist soil with good drainage. Aside from the slightly acidic soil (pH range from 5.5 to 7), your pawpaw trees will also appreciate ample water during the first growth years.
Holly Trees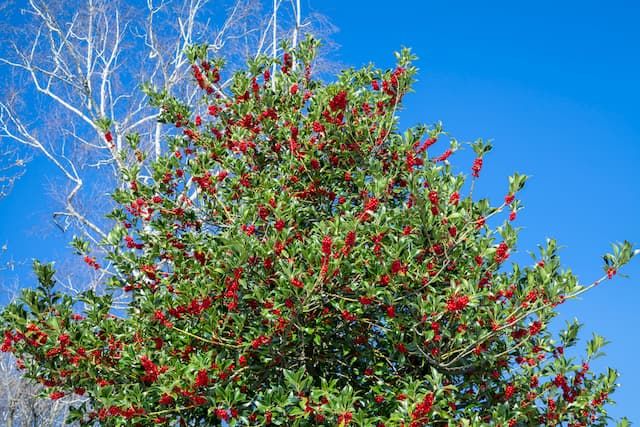 Native to the UK and parts of Asia, Africa, and Europe, holly trees are now among the most popular choices for landscaping in all American homes.
It is one of the best small trees for front yard due to its beauty coming not only from its prickly, evergreen leaves but also its bright yellow or scarlet berries.
Verdict
We don't all own enough space in the courtyard for a cottonwood tree, red oak, or weeping cherries, but there are varieties of smaller sizes to increase your property's value.
Invest in the best trees for front yard, and you will not have to worry about maintenance headache.